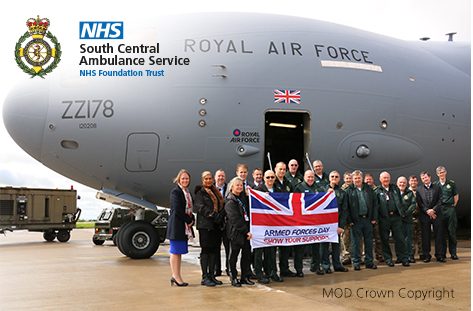 At SCAS we pride ourselves on our longstanding relationships with and support of the country's Armed Forces and we are particularly proud of the increasing number of veterans and reservists among our staff, as well as a growing cohort of military co-responders. Last year, SCAS was presented with the Ministry of Defence's Employer Recognition Scheme Gold Award – the highest accolade the Ministry of Defence can bestow on employers who have demonstrated outstanding support for the Armed Forces community.
In the run up to Reserves Day (27 June) and Armed Forces Day (30 June), we are focusing on a week of activity commencing Monday 25 June, which will highlight the wide range of career opportunities in SCAS, as well as hear from veterans of the UK and other international Armed Services who have joined us.
In the short film below, Director of Operations, Mark Ainsworth, outlines why SCAS offers a great career opportunity for those leaving the Armed Forces and how existing military skills and experience are greatly appreciated by, and can be put to good use across, South Central Ambulance Service.
The SCAS staff featured below have all spent time in the Armed Forces. Today they are enjoying successful and rewarding second careers in a variety of roles within SCAS.
See Potential is a government initiative aimed at removing the barriers that some people – such as care leavers, ex-offenders, homeless or military veterans – can face when seeking employment. SCAS was one of the first NHS organisations to sign up to the See Potential initiative and the short film below from Trust Chair, Lena Samuels, explains why we did.
Melanie Saunders, Director of Human Resources and Organisational Development, explains in the short video below why SCAS signed up for the Step Into Health initiative in 2017. Launched by NHS Employers, the programme recognises the many transferable skills and cultural values that Armed Forces personnel bring to NHS organisations. SCAS is one of many NHS organisations committed to the Step Into Health initiative to provide veterans with real career opportunities, not just a job.
Want to know more about the variety of different roles we can offer in our emergency 999, integrated urgent care (NHS 111), patient transport service and our corporate and support teams? Then visit SCAS Jobs – our dedicated recruitment site.