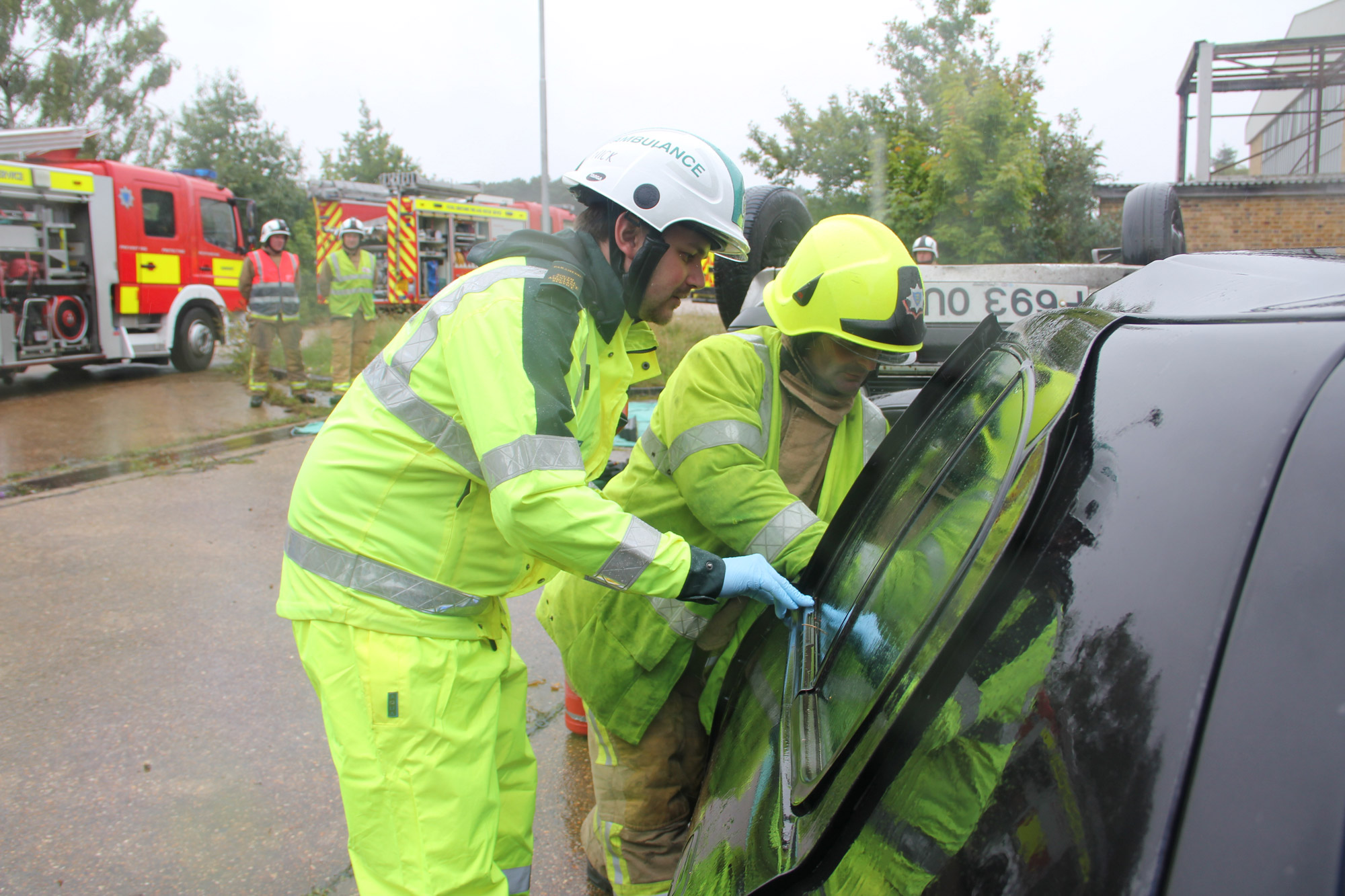 South Central Ambulance Service NHS Foundation Trust (SCAS) and fire services across the Thames Valley (Royal Berkshire Fire and Rescue Service, Oxfordshire Fire and Rescue Service and Buckinghamshire and Milton Keynes Fire and Rescue Service) are celebrating a new potentially lifesaving trial which sees full time fire stations responding as Co-Responders.
Co-Responders are firefighters from full time fire stations at Wokingham, Buckingham, Abingdon and Didcot trained by SCAS to provide a 'first response' to specific medical emergencies where there is an immediate threat to life prior to an emergency ambulance arriving on scene.  These new Co-Responder schemes started running as a trial from mid-November and aims to ensure that an appropriately trained person is on scene as quickly as possible providing that first response prior to the arrival of an ambulance.  In cases of cardiac arrest the chances of a person's survival decrease by 14% for every minute that passes without early defibrillation.  The introduction of the Co-Responders means that we are able to attend and provide basic lifesaving skills and support to our patients quicker than ever before.
Nic Morecroft, Lead Community Response Manager from South Central Ambulance Service said: "We are pleased to have embarked on this trial with our partner organisations and are incredibly grateful for their commitment and support in order to get it up and running for the benefit of the local communities.  Having the extra response in Wokingham, Buckingham, Abingdon and Didcot will complement our already existing Community Responder Schemes and Public Accessible Defibrillators which are also in the area helping to save more lives."
Nigel Wilson, Area Manager for Operations and Resilience for Oxfordshire County Council's Fire and Rescue Service, said: "This pilot scheme is an excellent example of effective partnership working, that will see skills and resources shared to enhance the service being offered to the local community".
"A swift response is often crucial in a medical emergency and this scheme means that where appropriate, firefighters can be mobilised to start to give medical treatment before the arrival of the ambulance crew."
"The extra training and equipment received by fire crews also means they have new skills that can be used at fires; road traffic collisions and other incidents, both for firefighter safety and to assist SCAS."
Wokingham Fire Station
"The crews at Wokingham Fire Station have enthusiastically embraced this opportunity to enhance their service to the public' said Neil Carter, Group Manager for Royal Berkshire Fire and Rescue Service.
"The additional training delivered by paramedics to support the co-responding initiative has increased both the skills and confidence of firefighters for dealing with medically related incidents.
All 24 firefighters at the station have received the training and as the station is crewed 24hours a day, round the clock availability for the co-responding trial is anticipated."
Stuart Buckland, Co-Responder Station Commander for Buckinghamshire and Milton Keynes Fire & Rescue Service said "Buckingham's Firefighters have embraced co-responding in a most positive way. The additional contribution that they can give to their community by way of medical response, is a prime example of how Buckinghamshire and Milton Keynes Fire & Rescue Service continues to promote their ethos of being a fully integrated part of the community that their Fire Crews serve."