One Saturday a few weekends ago, Paramedic Dee Cowan welcomed Nic Morecroft, Lead Community Response Manager, and Tony Peters, Head of Emergency Operations Centre – South, for a 'back to the floor' experience. Nic and Tony joined Dee on her 12 hour shift from Reading Resource Centre.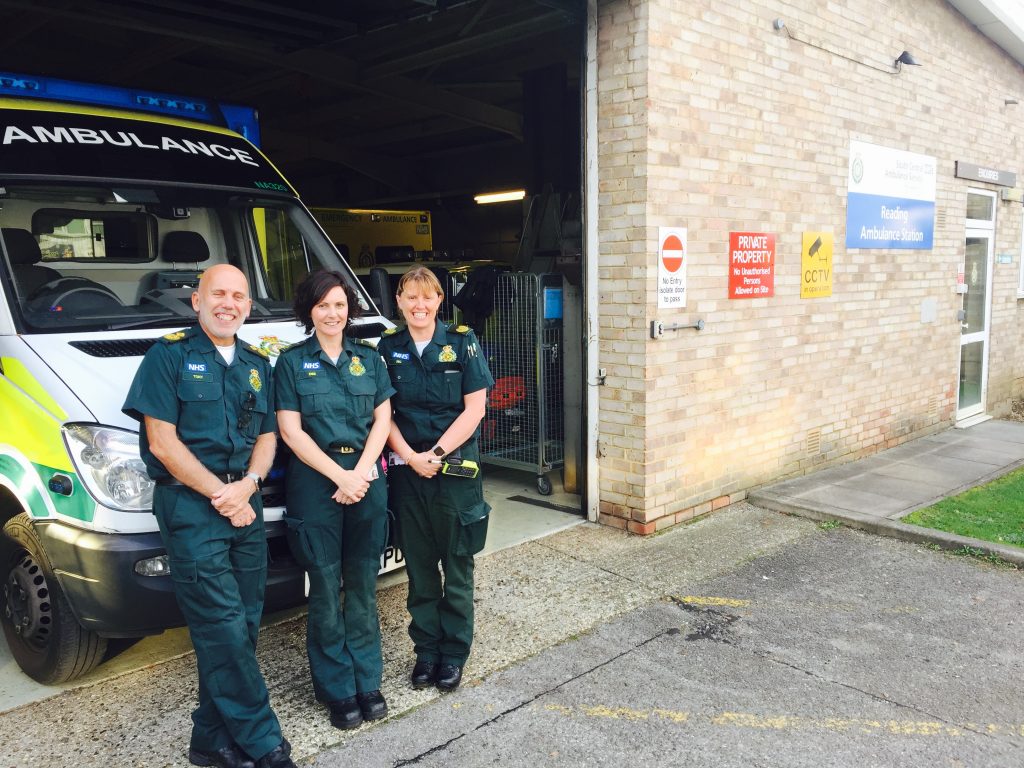 Dee said: 
"I was very pleased to take Nic and Tony out with me for my day shift, half hoping we wouldn't be cursed with the Q word! The day did not disappoint as it was a typically busy Saturday and ideal for senior managers to see our role and time pressures from the 'shop floor'. We had medical and trauma emergencies; including a cyclist with a dislocated shoulder, a football player with max-facial injuries and a 15-day-old baby who was very poorly and required immediate medical interventions. Top that with a late meal break and 1.5 hour late finish at the other end of the county, it gave Nic and Tony a real insight into a typical day for staff on the frontline. 
Nic and Tony took great care of our patients that day. They undertook all the treatments and interventions, which I feel is important for any manager who responds, as they came up to speed quickly, and learnt our pathways which will only benefit their future patients. And there is always a free ambulance at Reading if any other managers fancy a day out on the frontline!"
Nic and Tony added: 
"We would like to thank Dee for a very eventful, interesting, informative and fun filled day out; getting our hands dirty and getting back to what we love – treating patients! No standby for us as we were dispatched from job to job throughout the day only returning for our late meal break and late finish. No criticism of our dispatchers as we would much rather be busy than waiting around for the next call!
It is very easy to lose sight of what is happening outside in the big world, and it is very important for senior managers to see what's happening first-hand and to have a better understanding of the issues experienced operationally. This will help us in our daily jobs and help us to make informed decisions. Throughout the day, and in between treating patients, Dee was able to advise and show us in a very candid way, how much she enjoys her job treating patients, and at the same time raising issues that were of concern to her.
We would like to thank Dee for her enthusiasm and encouragement throughout the day.  We needed it, and treating patients with appropriate fun and laughter I am sure went a long way to easing the patients' pain and put a smile on their faces (as well as ours) to make their 'emergency' that little more bearable. Thank you and we need to arrange another shift!"