South Central Ambulance Service (SCAS) has won a Chartered Institute of Public Relations (CIPR) award for its campaign to increase public awareness of cardiopulmonary resuscitation (CPR) and defibrillators.
Entitled Saving lives – the three Cs (cardiac arrest, CPR, communication), it was named best healthcare campaign last night (Tuesday) at the CIPR PRide Awards 2022 in the Anglia, Thames and Chiltern region.
Alongside raising public awareness and interest in CPR and automated external defibrillators (AED), the campaign set out to improve take-up rates of CPR and AED usage and raise funds for South Central Ambulance Charity to aid development of volunteers and the purchasing of equipment.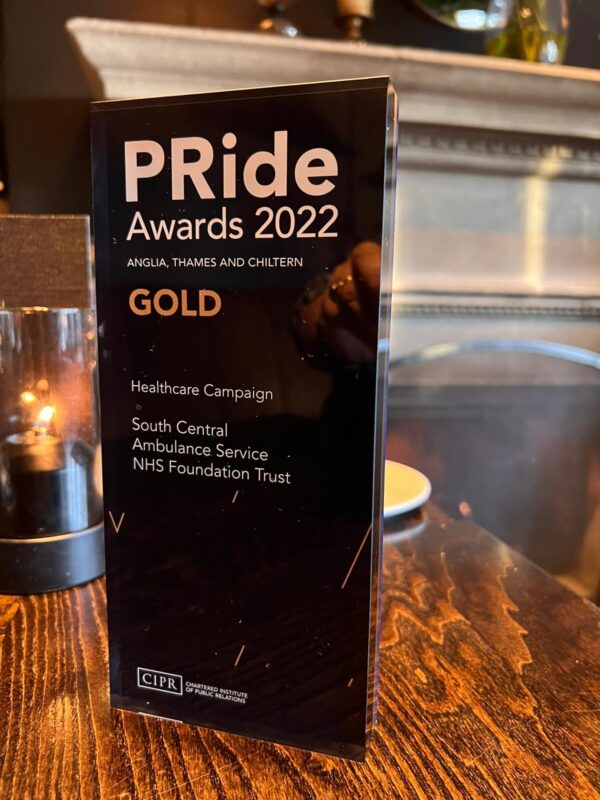 It was developed by the communications department in collaboration with the community engagement and training team and South Central Ambulance Charity.
The aim was to ensure regular communication throughout the year to secure national media coverage, significant social media engagement, charity donations and, most crucially, to aid an increase in out of hospital cardiac arrest survival rates.
The project covered four main subject areas including SCAS becoming the first in the country to roll out LUCAS 3, a state-of-the-art device which can perform CPR on a patient automatically to free up paramedics to carry out other vital interventions.
The second focused on Danish footballer Christian Eriksen's cardiac arrest at Euro 2020 and the link with the 'Save a Life' CPR app developed by SCAS, with the third on Facebook Live CPR sessions hosted as part of the 2021 World Restart a Heart Week.
The final communications initiative was the story of volunteer Graham Langley who saved the life of his friend and then became a volunteer community first responder.
Among the returns were widespread national and international media coverage of the LUCAS 3 device, national media coverage, live CPR events which involved more than 50,000 people and regional media coverage of Graham's story and subsequent use as an advert to recruit volunteers.
There were 2,294 occasions during the year where CPR was in progress prior to the arrival of an ambulance across Buckinghamshire, Berkshire, Oxfordshire and Hampshire which supports SCAS's improving out of hospital cardiac arrest survival rate of 13.9% – one of the highest in the country. 
"The dedication and the commitment from our communications department, charity and community training and engagement team in working together to raise the profile of CPR and defibrillators, funding advances in equipment and care and training members of the public has been vital in helping to improve out of hospital cardiac arrest survival rates in the SCAS region," said Nicola Dunbar, head of community engagement and training at SCAS.
"The variety of activities over the course of this year have demonstrated the benefits of this relationship, achieving media and social media impact, raising funds and training thousands of members of the public in vital life-saving skills."
Gillian Hodgetts, director of communications, marketing and engagement at SCAS, said: "We are all thrilled to win this prestigious award and more importantly for an aspect of our work that we are passionate about and that has the potential to help save many lives".
The award win comes ahead of the 2022 World Restart a Heart Day on Sunday, 16 October with SCAS hosting a range of events and activities throughout the week. Find out more at World Restart a Heart Day | South Central Ambulance Service (scas.nhs.uk).