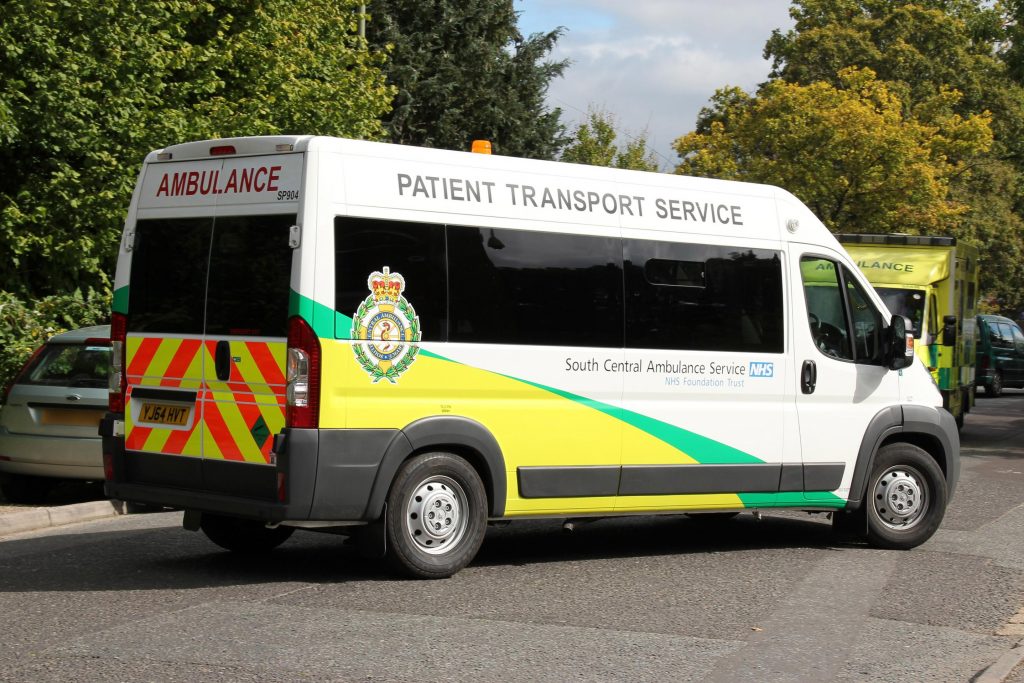 South Central Ambulance Service NHS Foundation Trust (SCAS) continues to drive forward with improvements to its Patient Transport Service (PTS) and has welcomed NHS England's focus on the important role it plays in the wider healthcare system.
The PTS provides non-emergency transport for people who need regular hospital care but cannot travel by themselves to attend appointments such as radiotherapy, chemotherapy or renal dialysis, while the service also includes transfers, discharges and other outpatient appointments.
At SCAS the PTS handles the complete experience for these patients, covering everything from call handling, planning and dispatch of vehicles through to the 900 trained Ambulance Care Assistants who make around a million journeys a year.
The service operates across Berkshire, Buckinghamshire, Hampshire, Oxfordshire, Surrey and Sussex.
In 2019, former NHS England Chief Executive Simon Stevens commissioned a national review into the services in collaboration with patient groups including Age UK, Healthwatch England and Kidney Care UK and its findings were published this week.
The review sets out a path to improve patient experience and utilise learning from the impact of COVID-19, make greater use of technology to better communicate with patients and coordinate journeys, expand the role of community transport and improve accountability, procurement and contracting.
It also includes specific measures including a new universal transport support offer for patients travelling to and from renal dialysis, overhauling the Healthcare Travel Costs Scheme to make it easier for people on a low income to claim back journey costs and a commitment to 100 per cent zero emissions journeys by 2035.
A number of new initiatives have already been introduced at SCAS which relate to the findings of the review, including the implementation of an online booking system called Passenger Zone which enables patients or their families to manage booking details and check journey status.
The team also developed a pioneering modelling system which helped to ensure thousands of patients continued to receive life-saving treatment in hospitals at the height of the pandemic. It was able to forecast the expected demand for each day of the week using historic data and factored in staff absences, reduced patients in vehicles and extended journey times to calculate the ability to cope on any given day.
Additionally, the PTS is already preparing for the introduction of electric vehicles within the next six months – following the launch of the Trust's first two fully electric emergency response vehicles in May – with the ambition of being fully electric within the next three to five years.
"Our PTS conveys upwards of a million patients a year, ensuring the most vulnerable patients can access healthcare and supporting patient flow through the system through the timely discharge of patients from hospitals – and our PTS staff and volunteers continue to play a pivotal role in the pandemic response," said Paul Stevens, Director of Commercial Services at SCAS.
"As one of the leading providers for PTS in the country, we welcome the review which captures learning from the COVID-19 response, leads to a consistency in contract eligibility criteria for patients, gives national standards for all providers and sets a clear directive for zero emissions of which SCAS has already started to work towards with introduction of electric vehicles set to be included within six months into our PTS.
"We are proud of the progress we have already made across our service and will work closely with our commissioners and the NHS England implementation team to introduce further changes with a continued focus on providing excellent patient experience."
He added: "We are also fortunate to benefit from a fantastic cadre of dedicated volunteer car drivers who support hundreds of patients in accessing hospital services every year and I would like to take the opportunity to thank them all for their outstanding work over the past year."
The PTS at SCAS has not changed its practice regarding personal protective equipment (PPE) and social distancing and continues to operate using level two PPE and "Hands, Face, Space" principles. With reduced vehicle capacity as a result, transport should only be used for those requiring support for medical needs. Any patients travelling with the PTS are expected to wear a face covering unless exempt.
Anyone interested in finding out more about becoming a volunteer car driver should email volunteer.cardriver@scas.nhs.uk or visit the SCAS website.
Issued: 06 August 2021