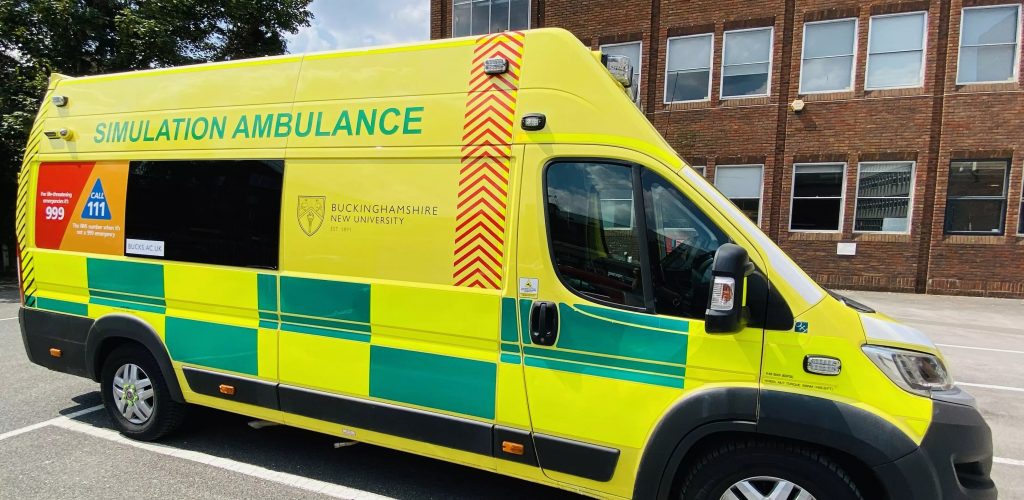 Buckinghamshire New University, in partnership with South Central Ambulance Service NHS Foundation Trust (SCAS) and London Ambulance Service NHS Trust (LAS), has launched a new BSc (Hons) Paramedic Science course which will start from next month (September).
The three-year degree course will be delivered from the University's High Wycombe and Uxbridge campuses, supporting workforce development in the Thames Valley and London regions. The programme received development funding (£100k) from Health Education England alongside capital investment from the University to develop the new programme.
This addition to Buckinghamshire New University's course catalogue, alongside new midwifery and physiotherapy programmes, will support the expansion of the institution's impressive healthcare portfolio.
Students will take part in placements supported by SCAS and LAS to help meet the strategic national workforce development priorities for this sector.
The programme will be led by Associate Professor of Paramedic Science, Will Broughton, who recently joined the University.
He said: "Paramedics have been front and centre in our response to the COVID-19 pandemic and we need to continue to grow this critical part of the health and social care workforce.
"We are very excited to be welcoming our first cohort of student paramedics to High Wycombe in September 2021, who will be undertaking frontline ambulance placements with South Central Ambulance Service NHS Foundation Trust.
"By partnering with two NHS ambulance services, as well as acute and community health and social care providers, we are providing students with excellent opportunities to gain clinical experience and core capabilities prior to joining the workforce on completion of their studies."
Howard Farley, Senior Education Manager at SCAS, said: "Building upon a long standing history of supporting and developing individuals to achieve registered paramedic status, SCAS is proud of this new partnership with such a well-respected university.
"This new programme will ensure the continuation of world leading paramedic education into the healthcare system and the development of future initiatives to develop not only new graduates but also existing registrants.
"The challenges faced by the NHS during the global pandemic have been well reported and to develop a new degree level clinical healthcare programme during this time has been nothing short of extraordinary and is testament to both Buckinghamshire New University and SCAS colleagues.
"We look forward to a collaborative and successful partnership with Buckinghamshire New University and are excited to be welcoming each and every new student Paramedic into our wonderful NHS family from September 2021."
From February 2022, the University will also welcome a cohort of student paramedics to the Uxbridge campus and they will be undertaking frontline clinical placements with London Ambulance Service NHS Trust.
Dr John Martin, Chief Paramedic and Quality Officer for LAS, said: "Gaining experience on the frontline whilst studying to become a paramedic is so invaluable, and a great way to put theory into practice.
"We're looking forward to supporting students from Buckinghamshire New University when they start in February 2022, and providing placements to enable them to become great paramedics."
Simulated patient encounters are a core component of the innovative new programme.
Alongside the University's existing simulation provision at both the High Wycombe and Uxbridge campuses, and thanks to £100,000 in development funding from Health Education England and significant capital investment from the University, students will have access to the latest patient simulators, clinical equipment and two fully functional simulation ambulances to support their learning and teaching experience.
HEE Regional Head of Allied Health Professions, Rebecca Tyrrell, said: "We are delighted that the strategic development funding has enabled BNU to provide a new Paramedic Science programme and support such valuable growth in paramedics required within our region.
"We should also like to thank all our stakeholders in supporting the expansion of quality learning environments for the new cohorts of Paramedic learners."