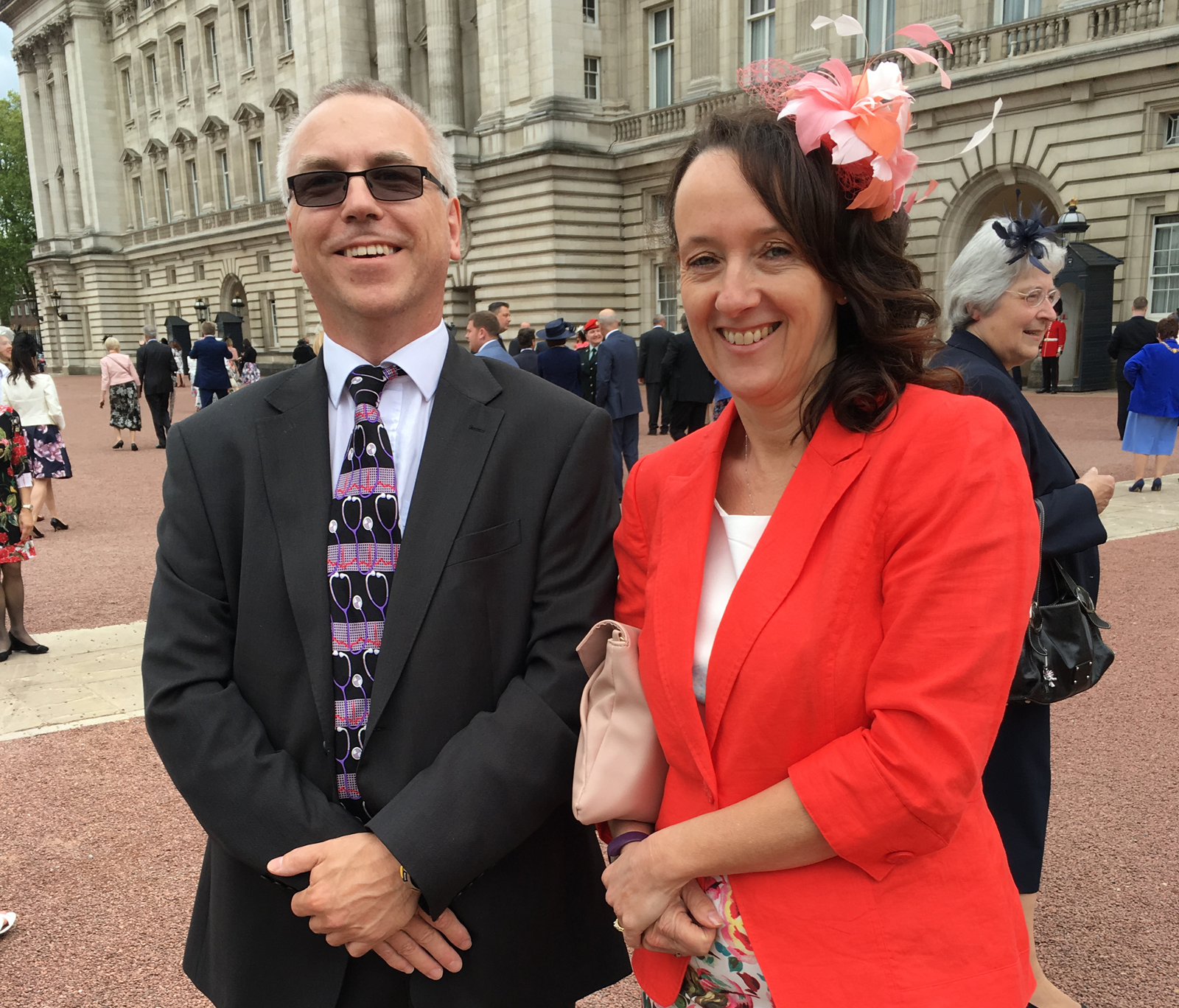 Maidenhead and Windsor Community First Responders (CFRs) have been honoured with the Queen's Award for Voluntary Service, the highest award a voluntary group can receive in the UK.
Cheryl Mathews and Andy Crowhurst, Joint Co-ordinators of the Maidenhead and Windsor CFR Scheme, were invited to a garden party at Buckingham Palace on Thursday 19 May with other winners of this year's award, which was attended by the Queen and the Duke of Edinburgh.
The Queen's Award for Voluntary Services is the highest award given to local volunteer groups across the UK to recognise outstanding work in their communities. The awards were created in 2002 to celebrate the Queen's Golden Jubilee and winners are announced each year on 2 June – the anniversary of the Queen's Coronation.
Cheryl and Andy have been volunteering for South Central Ambulance Service NHS Foundation Trust as CFRs since July 2005. The Maidenhead and Windsor CFR Scheme currently has 25 active volunteers and the group attends on average around 2,000 incidents a year.
Cheryl Mathews said:
"This is a fantastic award for everyone in our group. I'm just really happy to lead a successful team of people who do a remarkable thing for the local community in their spare time."
Marc Lister, Community Liaison and Training Officer for South Central Ambulance Service NHS Foundation Trust (SCAS), said:
"This is wonderful recognition for the efforts of our volunteers. It is unimaginable how many local families would be worse off if it had not been for the selfless actions of community first responders. I hope this award will go some way to saying thank you for everything they do for us and how highly thought of they are by the public, by SCAS and by their colleagues."
SCAS is currently appealing for more volunteers, particularly across East Berkshire and South Buckinghamshire, to volunteer as community first responders and make a life-saving difference to their local community. Volunteers would need to be able to offer a minimum of 20 hours cover in their local community per month. The exact time is completely flexible for each individual volunteer according to the existing work, family and other commitments volunteers have and does not need to be planned rigidly in advance. Volunteers can 'book on' and 'book off' if, for example, their plans change unexpectedly.
To find out more about the role of a CFR:
Visit https://www.scas.nhs.uk/cfr
Email cfr@scas.nhs.uk
Call 0800 587 0207