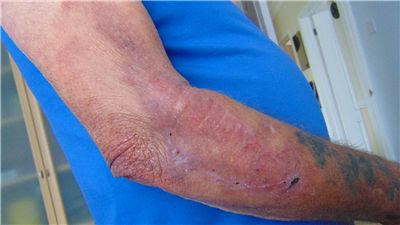 A Hampshire resident has praised South Central Ambulance Service NHS Foundation Trust (SCAS) staff who came to his aid after a bad fall whilst outdoors earlier this summer.
John Gosslinn, 71, from Chandlers Ford, was at Lakeside near Eastleigh on 17 July when he stepped over a metal chain fence, caught his foot and fell awkwardly, resulting in a serious arm injury.
John's injury meant that he had a large skinflap on his right forearm, from his elbow to half way down his arm.
SCAS ambulance crew Karen Parker, Stuart Simpson and Jim Edwards arrived on scene and assessed and treated John's injury.
They recognised that although John's arm injury looked serious, it could be treated by an Emergency Care Practitioner (ECP) as their clinical expertise means that they are trained in advanced wound care techniques.
The crew arranged via SCAS's Clinical Coordination Centre (CCC) in Otterbourne, to send ECP Matt Holbrook to John's home.
Matt Holbrook, Emergency Care Practitioner and Consultant Nurse Trainee for SCAS, said: "I attended to John at his home after the ambulance crew had referred him via the Clinical Support Desk for an Emergency Care Practitioner to come and review his wound. The ambulance crew had cleaned the wound to his right forearm, replaced the skin the best they could and applied a temporary damp dressing. The ambulance crew had also taken a picture on their electronic patient record (ePR) so that both Clinical Support Desk in our Clinical Coordination Centre in Otterbourne and I could see it prior to me going to see John. 
"Once there I removed the ambulance crew's dressing and gave the wound a further clean, then replaced the jigsaw of skin back into position, applied steristrips and dressed the wound.
"I advised John to be aware of any signs of infection and asked him to go and see his practice nurse at his GP surgery in a few days' time so that they can check that the treatment was all going to plan.
"Although superficial, the wound area was large and covered most of his forearm."
 John explains: "Paramedics first assisted me after my accident then I went home and Matt the Emergency Care Practitioner arrived and did an amazing job painstakingly fitting the skin on my arm back together like a jigsaw puzzle.
"I cannot fault either of the services I received that night."