TV footage shows the helicopter rescue of a woman who was thrown from her horse in an isolated Oxfordshire field. 62-year-old Philippa was treated by staff from South Central Ambulance Service (SCAS) who called in the Thames Valley air ambulance to get her to hospital as the field she was in was so hard to get to. The footage, which was filmed last February, features in
Inside The Ambulance: Coast and Country
(
W, Monday, January 18th at 8.00pm
).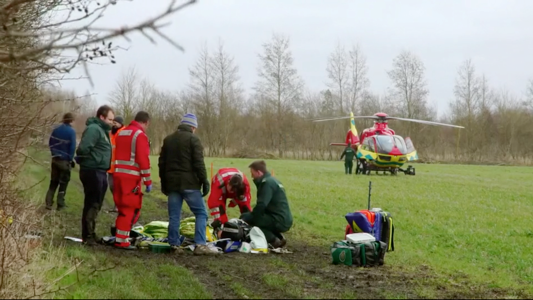 Paramedic Dom Tolputt and Emergency Care Assistant Ellis Mead were called to help Philippa, whose horse reared up when it was frightened by workmen.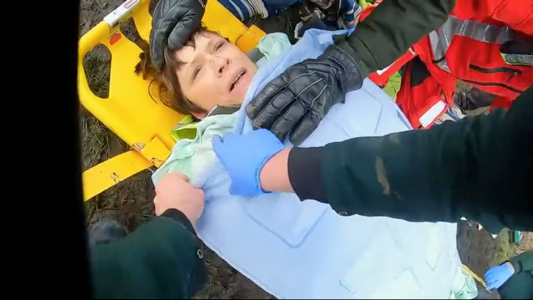 Philippa, who's been riding horses for more than fifty years, fell on her lower back and was in a lot of pain with a suspected pelvic fracture.
The team decided to call the air ambulance because the boggy flooding meant that they couldn't get their ambulance near enough to Philippa, who had been lying injured and immobile on muddy ground for an hour and was at risk of hypothermia.
The helicopter flew from RAF Benson in South Oxfordshire with senior critical care paramedic Lisa and Pre-Hospital Emergency Medicine Consultant Simon.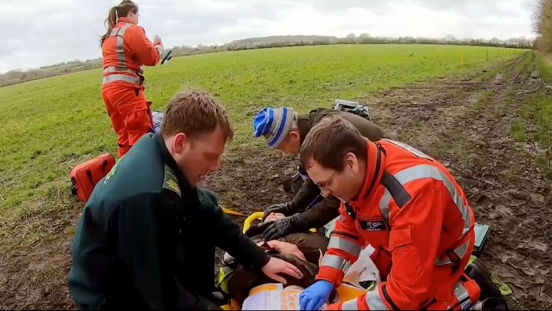 Philippa was flown to hospital where a trauma team were waiting for her. She received multiple x-rays and a CT scan to assess her injuries.
Inside The Ambulance: Coast and Country is on UKTV premium digital channel W on Monday, January 18th at 8.00pm.
W is available on Sky 109/809(HD), Virgin 125/211(HD), BT/Plusnet 311/383(HD), TalkTalk 311
W+1: Sky 209, Virgin 190
On demand on Sky and Virgin
Ends
NB: Filming for this latest new series of Inside the Ambulance took place between January and March 2020