The Ministry of Defence today (8 August 2017) announced that South Central Ambulance Service NHS Foundation Trust (SCAS) is one of 33 organisations to receive the Ministry's Employer Recognition Scheme (ERS) Gold Award; its highest badge of honour for organisations which have signed the Armed Forces Covenant and demonstrated outstanding support for those who serve and have served.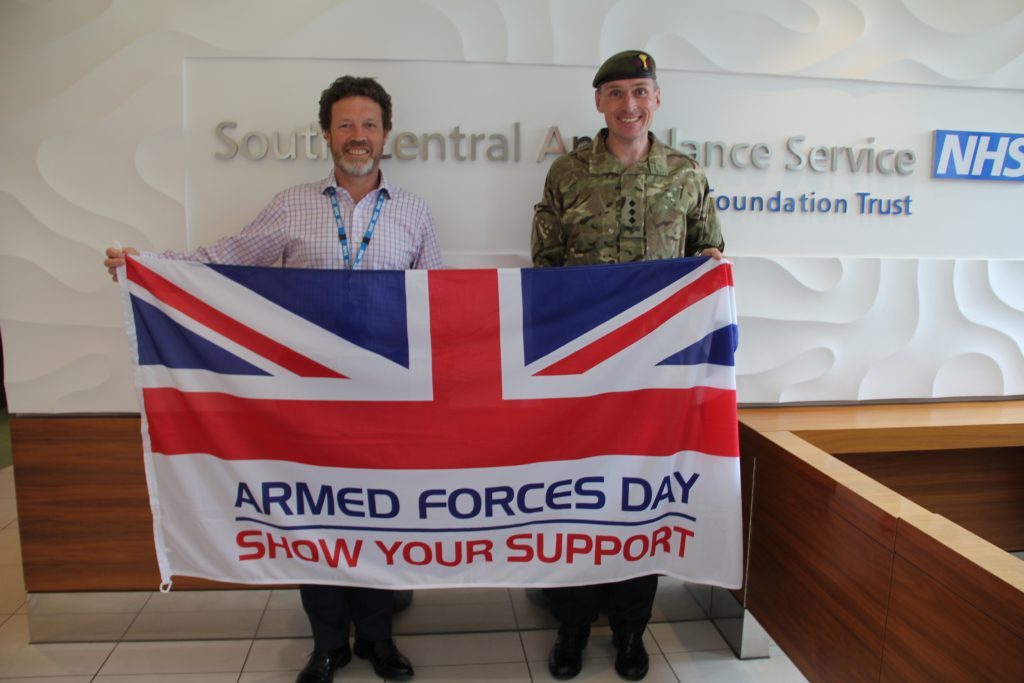 The ERS Gold Awards recognise employers who actively support the Armed Forces community in their workplace and also encourage others to follow their lead. The award scheme, which attracts entries from companies in every part of the country and in the private and public sectors, has seen a rapid increase in participation since it launched in 2014.
SCAS is one of only two ambulances services in England to have received the prestigious Gold Award.
Philip Astle, Chief Operating Officer at SCAS, who retired as a Colonel after a 25-year career in the Infantry, said:
"We are delighted to be recognised with this prestigious award. In my role it is very satisfying to not only find myself meeting so many ex-Services personnel whose skills and experience we are able to use to benefit patients in our region, but also I am extremely proud that the Trust has such a positive and flexible approach to allow our reservists and cadets to continue their valuable service to our Armed Forces.
"At all levels of our organisation, from actively supporting Armed Forces Day to training Cadet Forces, positively recruiting ex-Armed Forces personnel to encouraging more of our staff to become Reservists, we are incredibly proud of our longstanding relationships with and support for our Armed Services."
Defence Secretary, Sir Michael Fallon said:
"These companies have shown the gold standard of commitment to supporting members of the Armed Forces, veterans, and their families. They have taken meaningful steps to ensure the Defence community are not disadvantaged by the sacrifice they make in helping keep this country safe. The actions of these employers make it crystal clear that regardless of size, location, or sector, employing people with military skills is good for business."
Ends
The Armed Forces Covenant is a promise between the nation, government and the Armed Forces to treat our serving personnel, veterans and their families with fairness and respect. Corporates, charities and local authorities can sign the Armed Forces Covenant and make their own promise to support the Forces in ways of their choosing.
The Employer Recognition Scheme (ERS) was launched in 2014 by the Prime Minister to recognise employer support for the wider principles of the Defence Armed Forces Covenant and the full spectrum of Defence personnel. This includes the Reserves, Service Leavers, Wounded Injured and Sick, Cadets, and spouses.
 The Employer Recognition Scheme encompasses Bronze, Silver and Gold awards for employer organisations that pledge, demonstrate or advocate support to Defence and the Armed Forces community, and align their values with the Armed Forces Covenant. The awards are valid for three years, when they are reviewed.
For a full list of Employer Recognition Scheme Gold, Silver and Bronze winners: https://www.gov.uk/government/publications/defence-employer-recognition-scheme