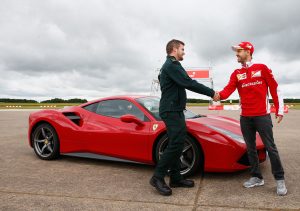 Four-time world champion Scuderia Ferrari Formula 1® ace, Sebastian Vettel, undertook a unique job swap with South Central Ambulance Service NHS Foundation Trust (SCAS) Paramedic, Alex Knapton, who has worked for SCAS for four years, after the recent British Grand Prix.
Sebastian Vettel's driving skills passed a unique health check with flying colours as he jumped behind the unfamiliar wheel of a three tonne ambulance to go head-to-head with Alex, who also swapped his usual blue flashing lights for the iconic red of Ferrari.
Vettel was tasked with sharing high performance driving tips in his Ferrari 488 GTB with a 3.9-litre turbocharged V-8 engine and top speed of over 200 mph, before joining Alex on a lap of the track in his three tonne ambulance, grabbing maximum performance from the vehicle and a modest 88 mph.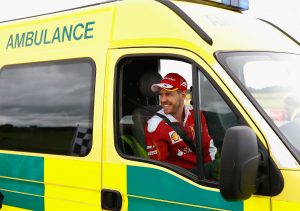 The two drivers, acting as both teachers and students for a day, coached each other on their professional driving style. Vettel had the opportunity to share tips from the high octane world of Formula 1 and Alex shared tips from his four years' experience as an emergency services driver attending over 1,000 real-life emergencies.
Fans can find out what happened when the two went head-to-head in some unusual hot laps by watching the video, which sees Vettel getting behind the wheel of an ambulance for the first time to set his fast lap, while Alex got to grips with the power of the Ferrari engine.
The video can be viewed here: https://www.youtube.com/watch?v=oHTXYbtXx44
Talking about his experience, Alex said: "Getting the opportunity to swap the ambulance for the Ferrari 488 GTB was a dream come true! It was an unbelievable experience to get that close to one of the stars of Formula 1®. Sebastian was on great form coaching on high performance driving tips and joking about the lack of a stereo system in the ambulance."
Scuderia Ferrari driver, Sebastian Vettel, said: "Paramedics play an essential role in motorsport around the world and not just in Formula 1®. They need to perform to such high standards every day because people's lives depend on them."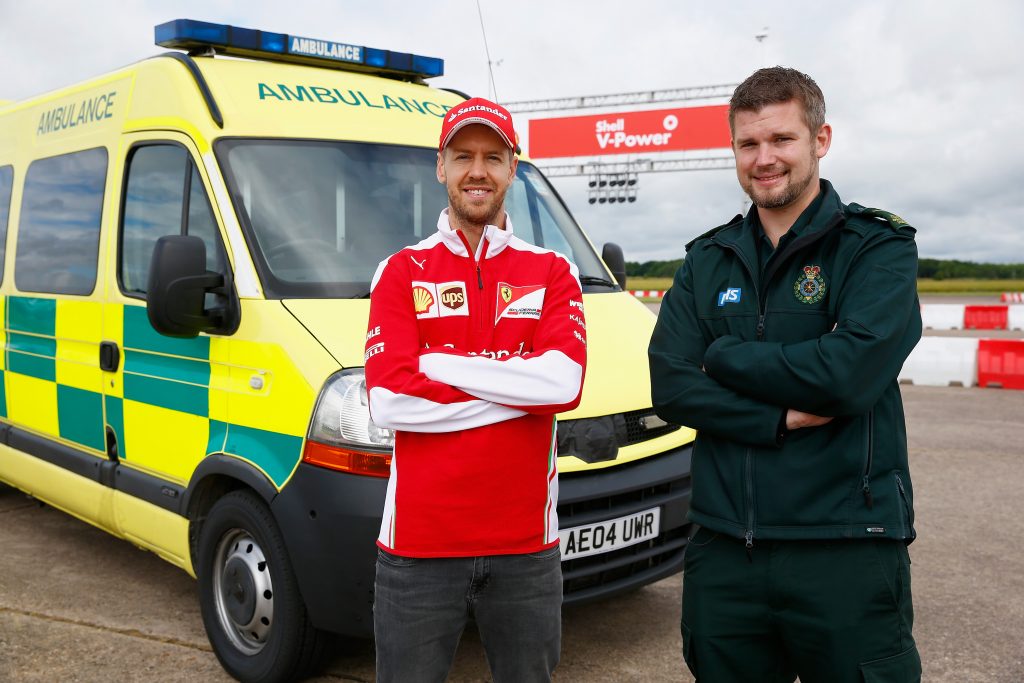 Alex and Sebastian were brought together at the event by Shell, whose Innovation Partnership with Scuderia Ferrari, has helped developed new Shell V-Power race fuels that contain at least 99% of the same types of compounds used in Shell V-Power fuels for the road. This ensures that road users, such as South Central Ambulance Service, get the maximum power and performance from their vehicles when they need them most.
Note: Alex attended the event in his own time and the ambulance used was not part of SCAS' Frontline Fleet.