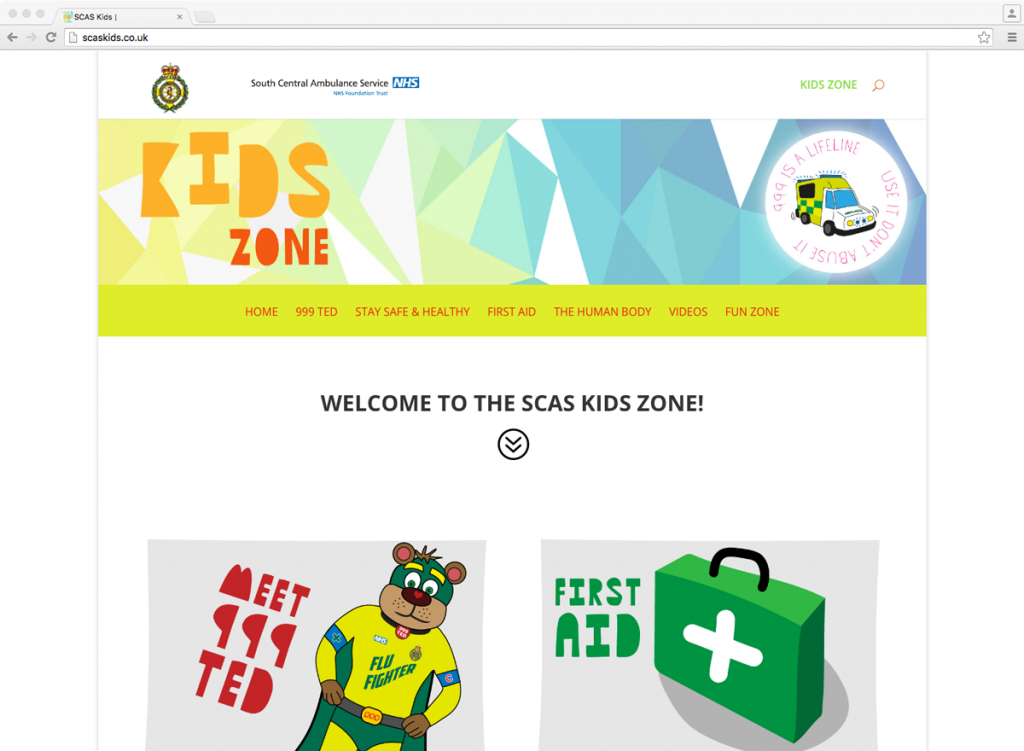 SCASKIDS – a new educational website designed for children, parents and schools – has been launched by South Central Ambulance Service NHS Foundation Trust.
The website – which can be accessed at www.scaskids.co.uk – provides advice and information for children, parents and teachers designed to help ensure young people can stay healthy, safe and know what to do in an emergency.
SCAS mascot 999 Ted provides seasonal tips on how to stay safe and healthy in spring, summer, autumn and winter; basic first aid advice and information can be accessed for dealing with bites, stings and cuts along with more serious emergencies when a person might not be breathing or suffering the symptoms of a heart attack; videos showing, amongst other things, the equipment that is on a modern ambulance and when you should dial 999 can be viewed; along with a fun zone packed with games and educational resources.
The SCASKIDS site was built using in-house resources from the communications, education and operations teams, along with help from teachers, staff and pupils at Fair Oak Infant and Fair Oak Junior Schools in Eastleigh, Hampshire, who helped us with making videos and checking that the development versions of the website met their needs.
Liz Steele, a teacher at Fair Oak Junior School, who was one of those involved in developing the SCASKIDS website, said:
"SCASKIDS is great. It is clear for the children to use, extremely informative, great for a 'start of the day activity' in class, brilliant for Key Stage 2 children and a great educational resource for assemblies. The children will learn a great deal and enjoy using it during ICT lessons."
After a final check in front of a whole school assembly of 600 children at Fair Oak Junior School, the SCASKIDS website went live with all the pupil helpers from the junior and infants schools – some of whom appear in the videos online – receiving a special certificate from 999 Ted thanking them for their efforts.