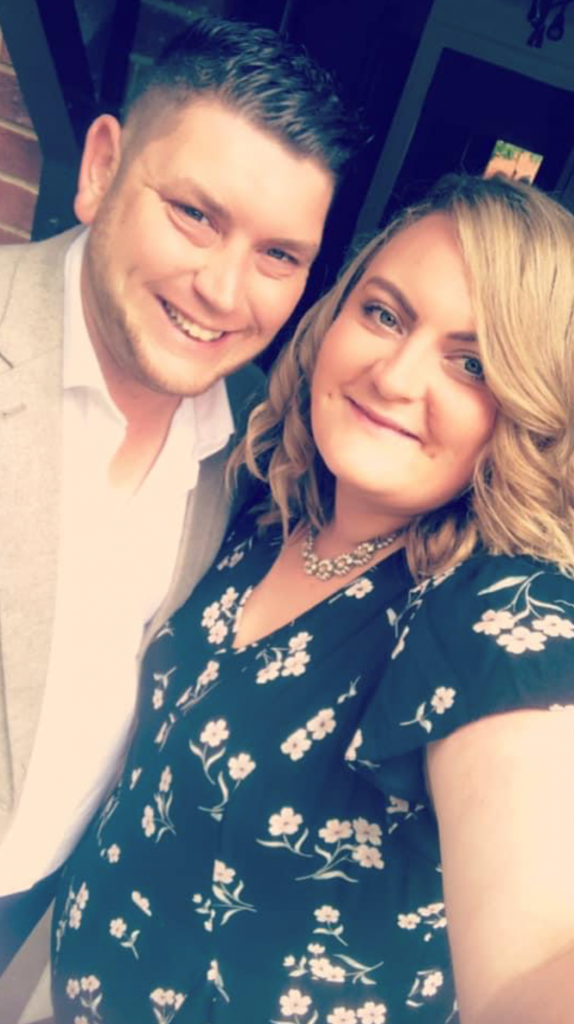 Steve Paley, 35, went out for a bike ride with his fiancé, Stacey Pritchard, 30, on New Year's Eve but only a short distance into the ride, Steve began to feel unwell before suddenly collapsing.
Steve and Stacey, who live in Didcot, were going to be seeing in the New Year at home and decided to burn off a few calories that afternoon with a bike ride to Blewbury knowing that they might be having a glass or two of wine that evening as the clock struck midnight.
The couple, who had been on a health kick for most of 2020 exercised regularly and ate healthily, and had lost an impressive four and a half stone between them. Steve, the manager of a small truck washing business, had no underlying health conditions or any indication that there was a problem with his heart.
"I don't really remember the bike ride", adds Steve. "I remember setting off but the next thing I remember is waking up in hospital."
Stacey, however, remembers everything as if it were yesterday. "We'd only cycled about a kilometre when Steve stopped and got off his bike and told me he wasn't feeling well", she says. "Then it looked like he fainted, but when I couldn't wake him up, I began to panic."
Stacey had started CPR on Steve then flagged down a passing car, driven by a local teacher called Sarah, who then called 999 before taking over CPR. A second car stopped to assist and fortunately it was being driven by off-duty SCAS Paramedic, Steph White, who took over CPR from Sarah. Further people also stopped to help, including a former SCAS ambulance technician and a SCAS non-emergency patient transport service crew.
"There was definitely an angel looking after us that day", says Stacey. "The fact that all these people with medical knowledge were passing and started CPR on Steve almost immediately after he collapsed made a massive difference to his chances of survival."
Within a few further minutes, a rapid response vehicle and Paramedic Team Leader, Rob Dalziel had arrived at Steve's side. Rob, working with Steph, administered two shocks from a defibrillator which achieved ROSC – a palpable pulse indicating Steve's heart had restarted – and they then put a LUCAS device on his chest, which carries out mechanical chest compressions. Two ambulances and the Thames Valley Air Ambulance critical response vehicle had also been sent by SCAS' clinical co-ordination centre team who were managing the response. With more resources now present, Steve was then put into a coma at the roadside and taken on blue lights to the cardiac team at the John Radcliffe Hospital in Oxford.
Steve says, "I was placed in an induced coma for a day and a half and had a small defibrillator inserted in my chest which can detect irregular heartbeats and deliver a shock to fix abnormal heart rhythms if needed. I'm well on the road to recovery and whilst I'm not back at work yet, I've got no other health issues or long-term damage from what happened to me. I just feel incredibly lucky and it's all down to the amazing people who came to help me when I needed it."
As a small token of their immense gratitude, the couple set up a fundraiser on Go Fund Me called 'Steve's Second Chance' and have raised over £500 for the South Central Ambulance Charity. The charity is currently focused on growing bystander CPR through community engagement and funding the life-saving LUCAS devices – two important factors in Steve's cardiac arrest emergency that significantly contributed to his survival and excellent recovery.
The couple, who have also signed up for first aid training, are planning to carry out further fundraising activities over the coming year to support the South Central Ambulance Charity. Stacey is going to train to run her first marathon and has given Steve strict instructions he is to be a spectator only! They are also looking forward to getting married in June 2022 after being together for 10 years.
Ends
Notes for editors:
A cardiac arrest is when your heart suddenly stops pumping blood around your body. When your heart stops pumping blood, your brain is starved of oxygen. This causes you to fall unconscious and stop breathing.
If someone is in cardiac arrest, they collapse suddenly and will be unconscious, be unresponsive and won't be breathing or breathing normally (not breathing normally may mean they're making gasping noises.
Without immediate treatment or medical attention, the person will die. If you see someone having a cardiac arrest, call 999 immediately and start CPR (chest compressions)
In the UK, there are over 30,000 out-of-hospital cardiac arrests a year where emergency medical services attempt to resuscitate the patient.
In the last full year of data published by NHS England (April 2019-March 2020) the survival rate for patients leaving hospital following a cardiac arrest was 9.2%. In the South Central region over the same period, the survival rate was 10.3%
About South Central Ambulance Service
South Central Ambulance Service NHS Foundation Trust (SCAS) provides a range of emergency, urgent care and non-emergency healthcare services, along with commercial logistics services, to the populations of the South Central region – Berkshire, Buckinghamshire, Hampshire and Oxfordshire – as well as non-emergency patient transport services In Surrey and Sussex, and a dental service (accessed via NHS 111) in parts of Dorset.
SCAS now serves a population of more than seven million people and employs more than 4,000 staff who, together with 965 volunteer community and co-responders, enable the organisation to attend more than 555,000 incidents via 999, handle 1.24 million calls to NHS 111 and make 866,000 patient transport service journeys each year.
SCAS is a foundation trust, which means it has thousands of members and a Council of Governors which form an integral part of the governance structure of the Trust. Being a foundation trust means there are more opportunities for patients and their families, staff and local residents to play a part in the future of the organisation. Find out more here: www.scas.nhs.uk/get-involved/
South Central Ambulance Charity raises funds to support SCAS. All the money raised by the charity is used to enhance services, projects and equipment across the Trust. The Charity works across Berkshire, Buckinghamshire, Hampshire and Oxfordshire as well as supporting patient transport services In Surrey and Sussex. Find out more here: scas.charity