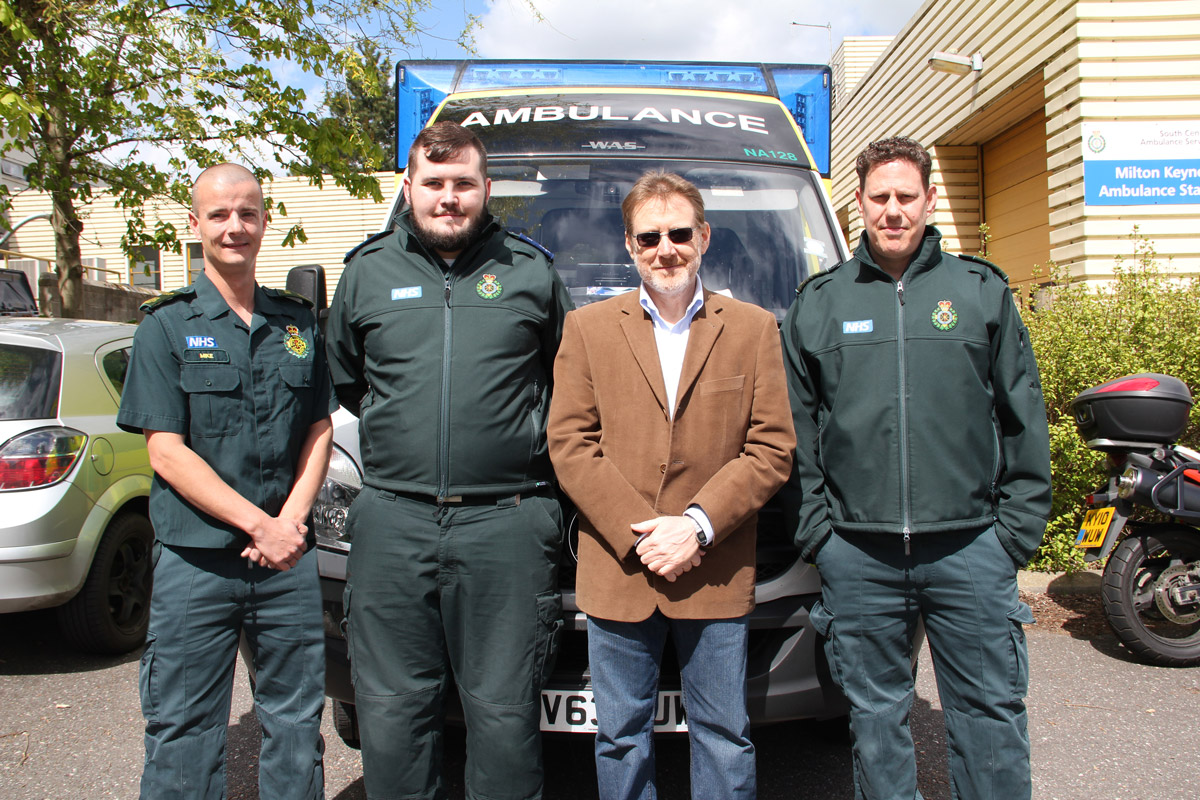 A Milton Keynes man has been reunited with SCAS crews who saved his life following a cardiac arrest.
Steve Persighetti, 59, was at home in February with his wife Rozany, when he started to experience severe pain throughout his chest and arms. With Steve's pain worsening, Rozany quickly phoned 999 and Emergency Call Taker Alexandra White helped reassure the couple that an ambulance crew and an ambulance officer had been despatched to their address.
Within four minutes, specialist paramedic Mike Lowe was on scene. He explained: "I found Steve in his lounge, quite pale and clammy and realised quickly the seriousness of the situation so I arranged for a crew to convey him to Oxford." Mike performed an ECG which was sent electronically through to the specialist cardiac centre at the John Radcliffe Hospital.
The ambulance crew, consisting of Ambulance nurse Mike Ambrose and Emergency Care Assistant Elliot Skirrow, arrived and then began to convey Steve to the John Radcliffe Hospital. However, en route, Steve suffered a cardiac arrest in the ambulance.
Elliot Skirrow remembers: "As we got to Buckingham, Mike Ambrose called through to me in the front of the ambulance that Steve had gone into cardiac arrest and to pull over to the side of the road and help him to shock Steve back into a normal rhythm."
"It was at hospital, that it was discovered that two of Steve's arteries needed unblocking. He went on to have a number of stents fitted and is continuing to recover steadily."
On 28 April, Steve and Rozany travelled to Milton Keynes Ambulance Station to be reunited with Mike, Mike and Elliot and to express their thanks. They spent time recollecting the timeline of events that day in February and it was evident how special the reunion was for all involved.
Steve said: "Once I'd recovered I realised I wanted to say thankyou to the ambulance crews involved as obviously without their help, I wouldn't be here."
Rozany explained: "It was a fantastic job done by Mike, Mike and Elliot and I'm eternally grateful because if not for them Steve wouldn't be here today."
Mike Lowe added: "To now meet a patient whose life we've saved is a wonderful thing and a great buzz for all of us."
Elliot Skirrow admitted: "Thankfully all the treatment Steve had was successful and he's still with us today."
Mike Ambrose said: "This reunion means everything because sometimes we don't really see the outcome of the patients we treat because we only see them for a short time so to receive a letter from Steve thanking us and knowing that he's survived and gone through the treatment is quite overwhelming really."