If you need help and it's not a serious or life-threatening emergency, make sure you make the right call. It could be more appropriate to access your GP, visit a minor injuries unit or walk-in centre, use NHS 111 online, speak to your local pharmacist or use the NHS app. Keep 999 and A&E free for those who really need it.
Please ensure that you have collected any repeat prescriptions before a bank holiday weekend as this will really help our team.
NHS 111 Online
Get medical help with 111 online. Answer questions about your main symptom, find out when and where to get help, be contacted by a nurse if needed, find out how to get an emergency prescription. Just visit 111.nhs.uk
'Emergency' and 'Urgent Care'
We often use the terms 'Emergency' and 'Urgent' care but it can be difficult for patients to know the difference. Here's a quick guide to help you make the right call to get the treatment you need. If you're not sure where to go, contact NHS 111 online at 111.nhs.uk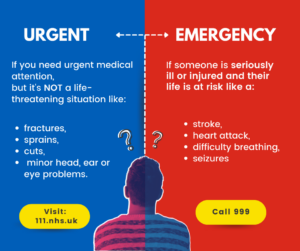 NHS App
The NHS App has 26 million users & according to @NHSDigital in the last 4 months was used to request 5.9 million repeat prescriptions. Download today. It's simple, secure & you can get health advice, order repeat prescriptions & book GP appointments.