The South Central Ambulance Service (SCAS) Charity is urging people to 'go the extra mile' and take part in a virtual event to see if they can complete a challenge to cover more miles than an emergency ambulance does in a single shift.
The virtual challenge, which launched on 1 March and runs until the end of May, hopes to raise a total of £10,000 which will give vital extra funds to the SCAS Charity's work.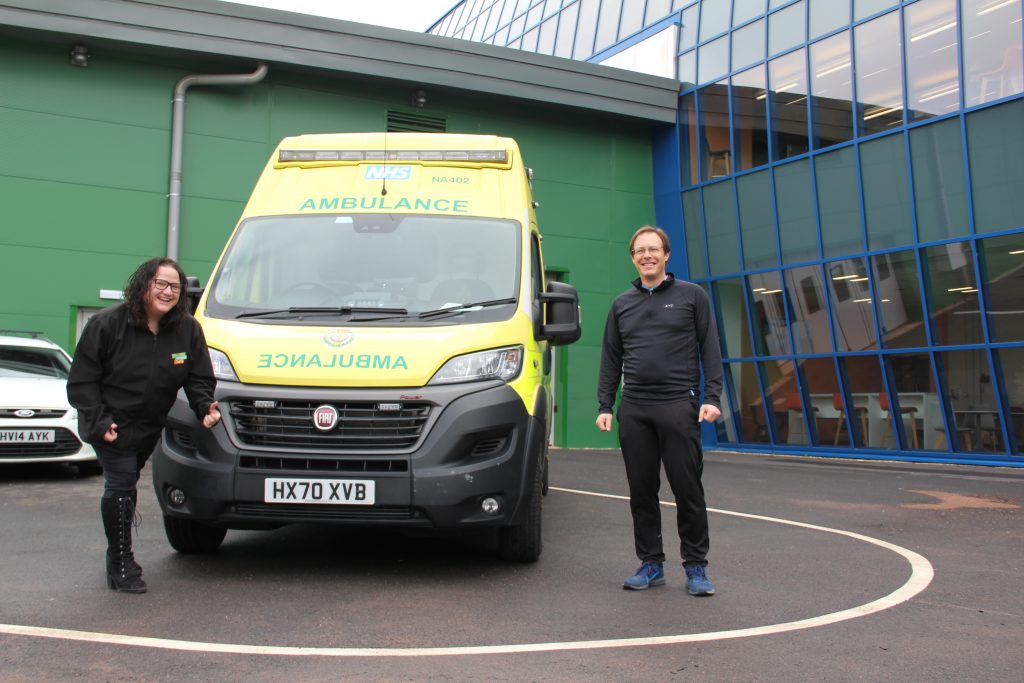 How to take part
The SCAS Charity has identified the approximate mileage an ambulance will drive on a typical operational shift from each of the Trust's ambulance stations in Berkshire, Buckinghamshire, Hampshire and Oxfordshire.
Berkshire
Wexham (75 miles), Newbury (140), Bracknell (155), Reading (165)
Buckinghamshire
Stoke Mandeville (94), High Wycombe (164), Milton Keynes (186)
Hampshire
North Harbour (66), Nursling (70), Hythe (81), Eastleigh (95), Hightown (109), Ringwood (110), Petersfield (117), Lymington (129)
Oxfordshire
Oxford (98), Kidlington (108), Adderbury (133), Didcot (152)
Participants simply choose their ambulance from the above list and over the course of three months (1 March-31 May) try to clock up at least one more mile than the approximate mileage. This can be done running, walking, cycling or other form of exercise.
Funds can be raised by setting up a fundraising page online at:
www.justgiving.com/campaign/scasoutrunanambulance
or:
www.virginmoneygiving.com/fund/scasoutrunanambulance
Remember to share your journey with the SCAS Charity with #Icanoutrunanambulance and #scas and tag the Charity on Facebook (@SCAS.Charity), Twitter (@scacharity) and Instagram (@scasambulancecharity)
Laura Patrick, Communications and Fundraising Officer at the SCAS Charity, said:
"We wanted to create a challenge that was accessible to as many people as possible, hence the wide range in mileage options on our list of stations. You can add miles with any form of exercise – go out for a run, a cycle, a walk, or indoors on an exercise bike, treadmill or rowing machine. We've even got one lady attempting to out swim an ambulance! You can take part as an individual or team up with people in your household or support bubble."
Will Hancock, Chief Executive at South Central Ambulance Service NHS Foundation Trust, said:
"I fully support this latest fundraising campaign from our wonderful Charity team. With so many fundraising events cancelled over the last 12 months any money that you can raise during this challenge will make a real difference to our Charity and enable us to save more lives. It costs £310.00 a year to keep our volunteer community first responders active in their local communities, and we have over 1,000 CFRs across the four counties we serve. They are sent to life-threatening emergencies and other priority emergency calls in their local area. Last year they were sent to over 24,000 incidents but we can only keep them trained, equipped and operational with funds raised by the SCAS Charity."
For more information about the SCAS Charity visit https://scas.charity
Ends
About South Central Ambulance Service
South Central Ambulance Service NHS Foundation Trust (SCAS) provides a range of emergency, urgent care and non-emergency healthcare services, along with commercial logistics services, to the populations of the South Central region – Berkshire, Buckinghamshire, Hampshire and Oxfordshire – as well as non-emergency patient transport services In Surrey and Sussex, and a dental service (accessed via NHS 111) in parts of Dorset.
SCAS now serves a population of more than seven million people and employs more than 4,000 staff who, together with 965 volunteer community and co-responders, enable the organisation to attend more than 555,000 incidents via 999, handle 1.24 million calls to NHS 111 and make 866,000 patient transport service journeys each year.
SCAS is a foundation trust, which means it has thousands of members and a Council of Governors which form an integral part of the governance structure of the Trust. Being a foundation trust means there are more opportunities for patients and their families, staff and local residents to play a part in the future of the organisation. Find out more here: www.scas.nhs.uk/get-involved/
South Central Ambulance Charity raises funds to support SCAS. All the money raised by the charity is used to enhance services, projects and equipment across the Trust. The Charity works across Berkshire, Buckinghamshire, Hampshire and Oxfordshire as well as supporting patient transport services In Surrey and Sussex. Find out more here: scas.charity