South Central Ambulance Service is supporting the Public Hearts Scheme, which fittingly launched in Reading on Valentine's Day (14 February).
The Public Hearts Scheme, which aims to increase the public's access to life saving automated external defibrillators (AEDs), was set up in 2017 by PC Matt Hammond at Gloucestershire Constabulary, and is expanding across the Thames Valley area.
The scheme is a partnership between the local licensed venues, South Central Ambulance Service (SCAS) and Thames Valley Police. Licensed venues from across Thames Valley can sign up to receive a collection pot to help raise funds to go towards purchasing an AED for their premises, which currently costs around £800. Money raised beyond this amount will then go towards the upkeep and maintenance of the devices.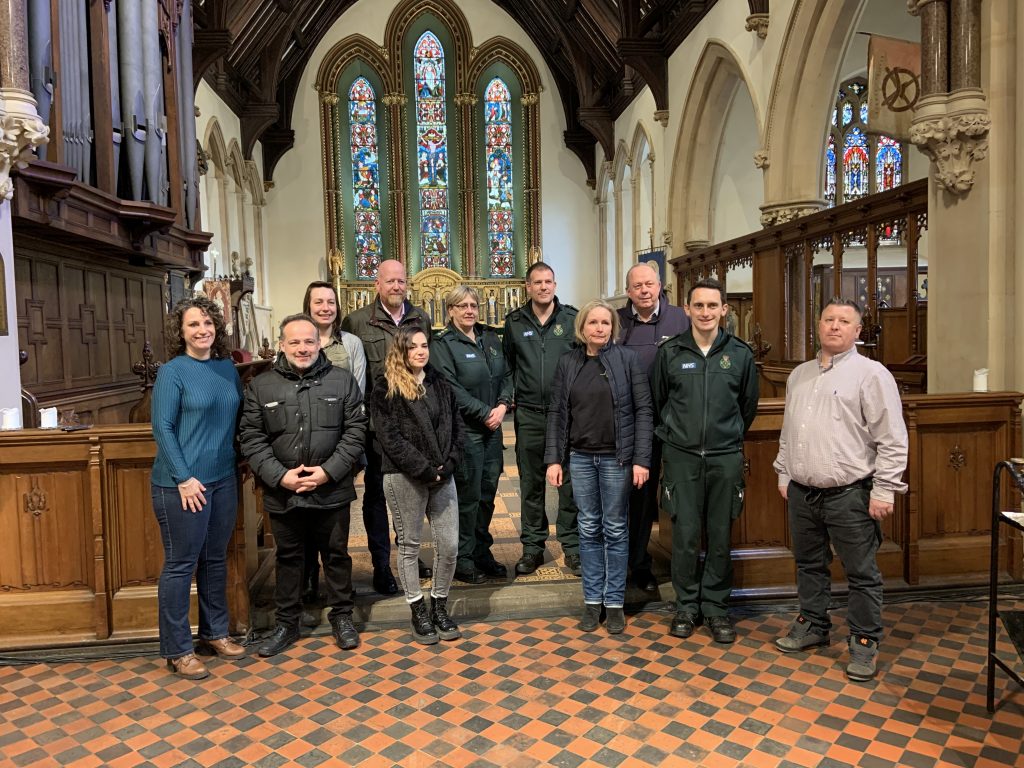 Reading's Business Improvement District (BID) has funded the first 11 defibrillators for Reading town centre.
As first responders to emergencies across the Thames Valley, our frontline ambulance staff, community first responders and Thames Valley Police Officers understand the importance of having access to an AED, particularly in the evenings when many community venues that house them may be closed. By being housed in licensed premises, these can be used by members of the public as well as the emergency services. AEDs are designed to be easy to use by members of the public, and you don't need any training to be able to use them.
David Hamer, Operations Manager – Community Engagement & Training at SCAS said: "Sudden cardiac arrest is the leading cause of premature death; the earlier there is intervention by someone to start basic life support and apply an AED the better chance of a positive outcome for the victim.
"AEDs are simple machines that are easy to use. The user will be instructed what to do by the machine, so no formal training is required. They have been used by many untrained members of the public with lives being saved as a result. Never be afraid to use this lifesaving piece of equipment if you need to."
Within the Thames Valley the scheme is being led by Licensing Officer Sergeant Larah Fisher from Thames Valley Police: "After meeting with Matt Hammond from Gloucestershire Constabulary and hearing about the success of the scheme there, I knew it would be something that we could support in the Thames Valley.
"We contacted licensed venues across the force and everyone has been really keen to get the scheme running in their areas. It's great to see the community coming together to fund the purchase of these devices. They are there for anyone who is unlucky enough to find themselves in a situation when it could be used to save a life."
Public Hearts officially launched in Reading on Valentine's Day, with some venues across the town holding fundraising events to support towards the installation of more defibrillators around Reading.
Business Improvement District Manager in Reading, Bobby Lonergan, said: "Reading Central Business Improvement District is pleased to fund this life saving equipment which will be on hand at 11 licensed venues around town, ensuring the defibrillators are not just available during the daytime but also in the evenings and into the early hours."
Any venues who are interested in being part of the scheme across the Thames Valley, please get in touch with your local licencing officer.
Ends