Thanks to funding provided by NHS England, the Oxford SOS Service – operated by South Central Ambulance Service NHS Foundation Trust (SCAS) – returns to the city centre this weekend to help NHS and other emergency services cope with the peak winter demand.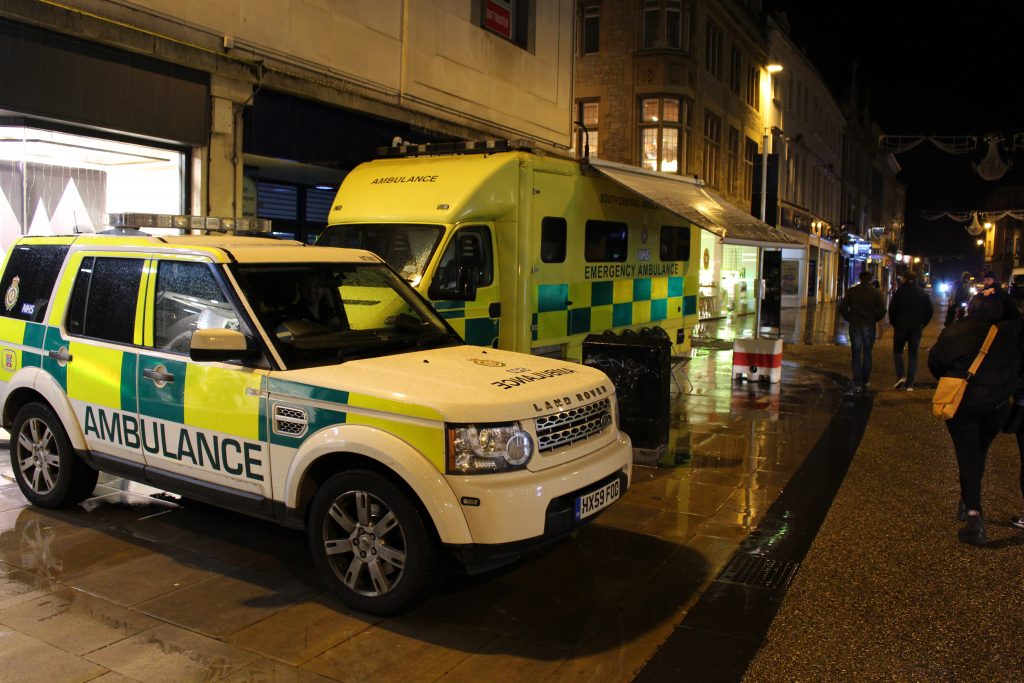 The SOS Service was praised earlier this year by Healthwatch Oxfordshire for providing faster, more efficient and more cost-effective treatment to people using Oxfordshire's Night Time Economy. The funding that SCAS Clinical Operations Manager and Oxford SOS Service Project Lead, Craig Heigold, has secured from NHS England will ensure that the service can operate for an additional extra month than in previous years.
Craig said: "We know that at this time of year, the SOS Service is always highly valued not just by our own ambulance service, but also by our colleagues at Oxford University Hospitals NHS Foundation Trust and Thames Valley Police. When all the emergency services are under the most pressure over the winter period, the SOS Service helps ensure that there are more of our ambulances available, that there are less people at A&E on busy weekend nights and that our police colleagues are not unnecessarily tied up dealing with medical incidents in the city centre."
The SOS service will be operating from a dedicated Jumbulance vehicle (large ambulance) every Friday and Saturday night (10:45pm to 5:15am) from Friday 6 December to Sunday 2 February (5:15am) based at Bonn Square.
An additional service will also run on New Year's Eve.
Last winter during a shorter phase of operation from its Cornmarket base, 54 patients presented themselves at the SOS Service for treatment. Of these, only 16 required further treatment and/or assessment at the John Radcliffe Hospital; meaning that the SOS Team was able to deal with over two-thirds of those patients at the scene who might otherwise have gone to A&E or called 999.
Craig Heigold, Oxford SOS Project Lead, added:
"Although I'm very grateful that NHS England have provided the funding for the SOS Service this winter as part of its Alcohol Intoxication Management Services, our data shows that half of the patients who come to see us do so as a result of an injury from a fall or an assault, or for other medical reasons.
"The SOS Service is not just something available to people who are intoxicated through drink or drugs. I would therefore urge anyone who feels unwell or suffers an injury whilst on a night out in Oxford to come and see us at Bonn Square. By doing so, you would really be helping local NHS services by not calling 999 or making your own way to A&E."
Ends
Interviews available by arrangement with Craig Heigold at Oxford City Ambulance Station.
Visits to the SOS Service in operation also welcome by prior arrangement.
Notes:
The SOS Service is located in Bonn Square and is available every Friday and Saturday night from 22.45 to 05.15. The service operates from a dedicated larger than normal ambulance, and every operational shift will be run by a team of two SCAS paramedics, along with an emergency care assistant or associate ambulance practitioner, as well as the valuable support from local community first responders.
Launched in November 2014, the SOS Service is highly valued by SCAS, Oxford Street Pastors, Thames Valley Police and Oxford University Hospitals NHS Foundation Trust because it provides additional medical provision in the city centre which reduces 999 responses and A&E presentations for alcohol related incidents.