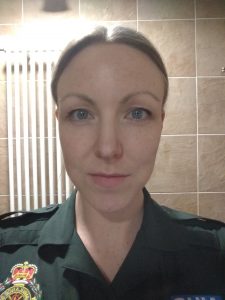 Jennifer, Senior Emergency Call Taker
We didn't know my grandmother wanted to be an organ donor until after she died suddenly of complications following emergency surgery.
She hadn't been unwell so her death was a shock and we couldn't understand why the hospital was keeping her.
Once we knew about her wishes, we honoured them and it made her death easier to deal with.
"My grandmother's death was a shock to the whole family and the delays in organising her funeral were awful as we didn't initially know what was causing them.
Once we found out the reason was the fact she had registered as an organ donor, not only did it make her death easier to deal with retrospectively, but it also sparked conversations in the family.
Some of us aren't able to donate due to medical conditions; some of us wanted to register but hadn't previously as they didn't want to distress other members of the family.
Grandma's death has meant those people now feel able to do so and they, and others. Have registered as a result of my grandmother's own wishes.
Many of us didn't realise you have to choose to help people in this way, and thanks to strict chain-of-survival type requirements to keep the organs healthy, not everyone will be able to donate.
But you can't make that decision after the event.
Registering as an organ donor gives the best chance to those in need.
We looked at it this way; when you can't use them any more, why would you stop someone else from doing so?"
Next year, the law around organ donation is changing in England. From spring 2020, all adults in England will be considered as having agreed to donate their own organs when they die unless they record a decision not to donate or are in one of the excluded groups.
Even after the law has changed, families will continue to be approached before organ donation goes ahead. Knowing what their relative wanted, helps families support their decision at a difficult time.
Find out more and register your decision by visiting NHS Organ Donor Register at www.organdonation.nhs.uk and share your decision with your family.