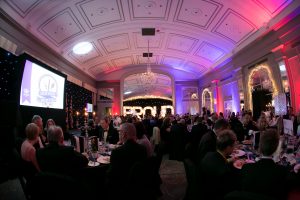 The Ambies is the Trust's flagship staff recognition event, which has been running for over 10 years. It is a key part of the Trust's staff reward and recognition programme.
Staff who have gone 'above and beyond' in their job, and have embraced SCAS's four key values of Teamwork, Innovation, Professionalism and Caring, are nominated for awards by their peers, colleagues, stakeholders and members of the public. A panel selects the winners and runners up in each category.
This years event takes place at the Red Bull Racing headquarters in Milton Keynes on 29 November 2019.
We couldn't recognise our fantastic staff in this way without the generous support of our fantastic sponsors:

J Tomlinson specialise in delivering tailored maintenance, construction, and refurbishment services to both private and public sector clients, including the Emergency Services, Extra Care, Healthcare, Education, Commercial, Industrial, Hotel, Leisure and Student Accommodation. As a business we live and breathe our vision and values, placing our people, our customers and the communities we work in at the heart of everything we do.
We're proud to sponsor the 999 Person of the Year Award at this year's Ambies. Wishing the very best of luck to all nominees on the evening

Hexagon's work with SCAS has allowed us to see first-hand what great people work there, both
on the frontline and in support roles. Hexagon is delighted to take the opportunity of the Ambies to recognise those people and the outstanding work that they do. Hexagon share a passion with SCAS for using innovation and technology to deliver better outcomes for patients while helping SCAS operate as efficiently as possible.
We are very pleased to be sponsoring the Clinical Coordination Centre (CCC) 999 Person of the Year Award this year.

Liaison Onecall is part of the Liaison FS Group and has been involved with the establishment of the Computer Benefit Programme which kick started the very first Trust Home Technology Benefit Programme in 2001 under the governments Home Computer Initiative. Liaison Onecall specialise in running
Home Technology and now Holiday salary sacrifice programmes for the public sector in particular NHS Trusts and Health Boards.
We are delighted to be invited to support the SCAS People's Pride Award. It's a real honour to be part of this very special event and good luck to all those nominated, and we hope everyone has a fantastic night.

As the UK's leading provider of Occupational Health to the NHS, Team Prevent is proud to have supported the Occupational Health and Well Being for SCAS employees for over nine years.
We are delighted to be sponsoring the Ambies
Special Recognition Award for a Healthier Lifestyle. Good luck to the nominees and we hope everyone has a fantastic evening.

Terrafix is the proud supplier of the South
Central Ambulance Service A&E Mobile Data and Communication System. Supplying mission critical ICT solutions to assist the UK Emergency Services in delivering a reliable and effective response to emergency incidents.
Terrafix is proud to support two awards, Team of the Year and Support Person of the Year, and wishes everyone good luck for this year's awards.

Zoll Medical develops and markets medical devices and software solutions that help advance emergency care and save lives, while increasing clinical and operational efficiencies. With products for defibrillation and monitoring, circulation and CPR feedback, data management, therapeutic temperature management, and ventilation, Zoll provides a comprehensive set of technologies that help clinicians, EMS and fire professionals, and lay rescuers treat victims needing resuscitation and acute critical care.
We are proud to be supporting the SCAS Educator of the Year Award at this year's Ambies.