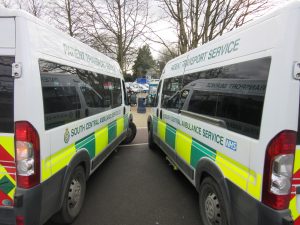 In April, SCAS Marketing & Communications Manager, Nick Smith, spent the day with one of the crews in Oxfordshire that make up SCAS' Non-Emergency Patient Transport Service (NEPTS).
Across the SCAS region, the NEPTS team undertake over 500,000 patient journeys every year. Below is Nick's account of his day on the road.
This article originally appeared in the Summer 2016 edition of Foundation Times
"The shift started from the Oxford NEPTS Resource Centre at 8.30am, but the crews were in the mess room at 8.00am having a cup of tea and preparing for the day ahead. Sandy Taylor spent 22 years in the RAF before joining SCAS four years ago as an Ambulance Care Assistant with NEPTS. He will be driving the ambulance, which has several patient seats and the ability to transport wheelchairs or a stretcher if required.
Sandy is joined today by Richard McDonald, a student paramedic who fits in NEPTS shifts around his studies in order to get additional experience with patients and earn some extra money. Richard spent 16 years in the hospitality industry before deciding he wanted to take a new direction in his career. He took a one year access course, and then enrolled on the two year paramedic course.
The first run of the day involved collecting a woman with dementia from the nearby John Radcliffe Hospital, and returning her to the care home where she lived. The patient was confused about where she was being taken and who would be there, but Richard treated her with great understanding, using his previous experience of dementia care to ensure she got the respect and care that she deserves.
Once she had been settled back in to her care home the crew set off for the next pick-up: a gentleman and his carer from an Oxfordshire village who needed to get to a hospital appointment at the John Radcliffe Hospital in Oxford.
On the way, another woman patient was picked up and delivered to the Churchill Hospital in plenty of time for her appointment.
The next patient on the list was a woman to be collected from the John Radcliffe and taken to her bungalow on the outskirts of Oxford. This patient had fairly severe mobility issues, and Sandy and Richard needed to use all their skills to ensure that she could be safely and comfortably transported in the ambulance.
Whilst chatting to the patient on the journey it becomes apparent that she has had not much to eat or drink that day and that, due to the time of her appointment, she will have missed her daily visit from her carer. Realising this, Richard and Sandy demonstrate the core SCAS value of caring by taking the time to make sure she was settled in and comfortable, had a cup of tea, some water and something to eat and, crucially, that she had her telephone and personal alarm on her.
By now it was time for the crew to take their rest break, but they notice on the PDA that one of the later journeys (the woman who they dropped off at the Churchill earlier) had finished her appointment early and had been flagged as ready for collection. Sandy and Richard decided to postpone their break and called control to get her journey split out so that they could deliver her home early and save her having to wait in hospital; again showing their fantastic commitment to patient care.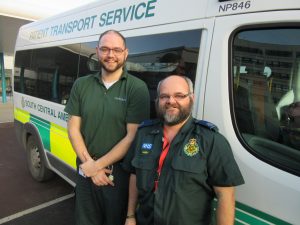 Two more patients were taken from appointments back to their homes before Sandy and Richard finally found time to take their break at 5.15pm. After a well-earned cup of tea and sandwich back at base, the crew were back on the road for the last run of the day.
This was a regular patient who gets transported for treatment three times a week, and is a favourite with the crew due to her mischievous sense of fun. She only has lovely things to say about NEPTS staff and on the evidence of Sandy and Richard's inspiring work, it is easy to see why."