Members of the public were invited to find out about the latest research in how to restart a heart at a special showcase meeting.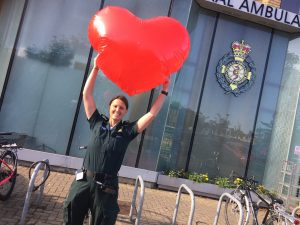 Helen Pocock, Senior Research Paramedic,  talked about how initiatives such as the national Out-of-Hospital Cardiac Arrest Outcomes (OHCAO) project and international Restart a Heart Day can inform and improve our care for patients.
The meeting was held on 21 October 2019 in Berkshire btween 7 – 8 pm
Please email getinvolved@scas.nhs.uk for more information about our latest event.
Biography
Helen Pocock is Senior Research Paramedic with South Central Ambulance Service.  She joined the Royal Berkshire Ambulance Service in 1997 as a trainee technician and has enjoyed an exciting and varied career as a paramedic.  She has worked as a Clinical Mentor, Clinical Educator, University Lecturer and Research Paramedic.  She has recently embarked on a new and challenging chapter of her career as an NIHR Clinical Doctoral Research Fellow. After conducting primary research as part of her Masters degree, Helen was bitten by the research bug and undertook secondments as a Research Paramedic on the PARAMEDIC and PARAMEDIC2 trials.  Cardiac arrest research is difficult but essential if we are to improve outcomes for patients.
You can view the flyer here Your Health Matters 21 October and 4 December