Today, South Central Ambulance Service NHS Foundation Trust (SCAS) is delighted to announce that the Trust has been rated as 'Good' following an inspection of its wide range of services earlier this year.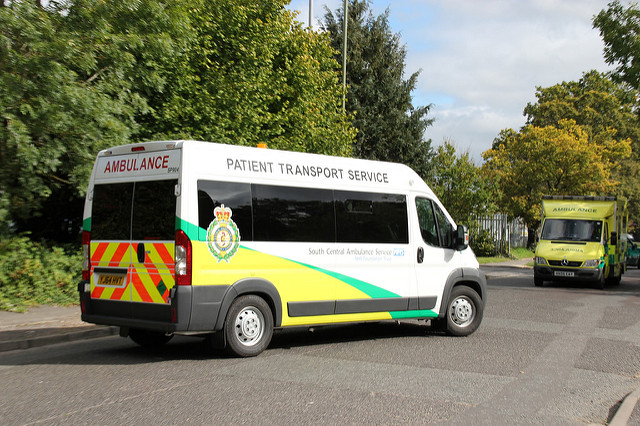 Will Hancock, Chief Executive of South Central Ambulance Service NHS Foundation Trust said: "I am delighted to report that our service has been rated as 'Good' overall. This is fabulous news for our organisation as we are the first and only ambulance trust to get a 'Good' rating across ambulance trusts in England. I would like to thank our caring and professional staff for all their hard work and dedication".
As a result of their inspections they observed that we have the most caring, compassionate and dedicated staff working for us. In particular the Non-Emergency Patient Transport Service (NEPTS) was identified as delivering 'outstanding' care to its patients, as staff developed supportive and trusted relationships with regular users.
SCAS welcomed the inspection from the Care Quality Commission (CQC) which was thorough, robust and comprehensive in its approach. The CQC team inspected all of the services provided; visited 20 resource centres (ambulance stations), air ambulance sites, clinical co-ordination centres and 10 acute hospitals. They observed thirteen emergency ambulances crews, seven non-emergency patient transport crews and spoke to around 350 members of staff across the Trust.
The findings identified that staff were positive about working for the Trust and recognised the value of their service. They also concluded that patients and their relatives were involved in their care and treatment decisions and patients were treated with dignity and respect, while being assessed and treated appropriately using best practice and utilising current national guidance.
The CQC noted that SCAS has an open culture which encourages the reporting, thoughts and feedback from staff in order to provide learning and improvements for staff and for patients.
Over four million people rely on the services SCAS provides which means SCAS more than ever is committed to continue, at pace, to deliver the improvements already identified by the CQC and continue to work in partnership with other stakeholders in achieving this.
Mr Hancock continued: "Whilst we have demonstrated excellence in several areas, there are also areas where we need to continue to make improvements. The CQC recognised that the service is operating in an environment of unprecedented demand; yet despite this we are committed to finding a way to manage that demand to enable us to meet response times and ensure that patients are responded to safely and appropriately. The CQC found that our staff are proud to work for the organisation; however there were pressures on the service from the demand which were affecting staff morale and work-life balance. This was further compounded by the national shortage of paramedics. The CQC acknowledged that we are actively recruiting and developing all grades of staff to improve this."
The inspectors identified a number of areas of outstanding practice for which SCAS is incredibly proud. These included the Trust's strategy of developing new services for patients to ensure we deliver the right care to patients, at the right time and in the right place, and working with external partners to ensure that we manage the ever increasing demands placed on our services. They also commented that SCAS gives good peer and management support and provides innovative training which includes the use of a specialist simulation vehicle.  Finally it was clear to them that the Trust works in partnership with communities, organisations and universities to develop services and further career development.
This report is testament to the hard work, dedication and commitment shown by all staff working across all our services in SCAS.