South Central Ambulance Service NHS Foundation Trust (SCAS) is joining the global celebration today for International Nurses' Day.
International Nurses' Day is celebrated around the world each year on 12 May, the anniversary of Florence Nightingale's birth. This year in particular it's an extra special occasion because not only does it fall during International Year of the Nurse and Midwife, it also marks to 200th anniversary of Nightingale's birth.
Ordinarily this would be a time for mass celebration and events, but as nursing staff across the world stand united in responding to the global Covid-19 pandemic, SCAS will join the public to "shine a light" from their window at 8:30p tonight to mark the day.
SCAS is fortunate to have some fantastic nurses working in both the NHS 111 and 999 emergency and urgent care services the Trust provides. Our nursing team working at the Trust's Clinical Coordination Centre at Bicester, Oxfordshire, today took a short pause from providing care and advice over the phone to patients who had called NHS 111.
Fittingly, on the 200th  anniversary of Florence Nightingale's birth, between them, the team has over 200 years' nursing experience.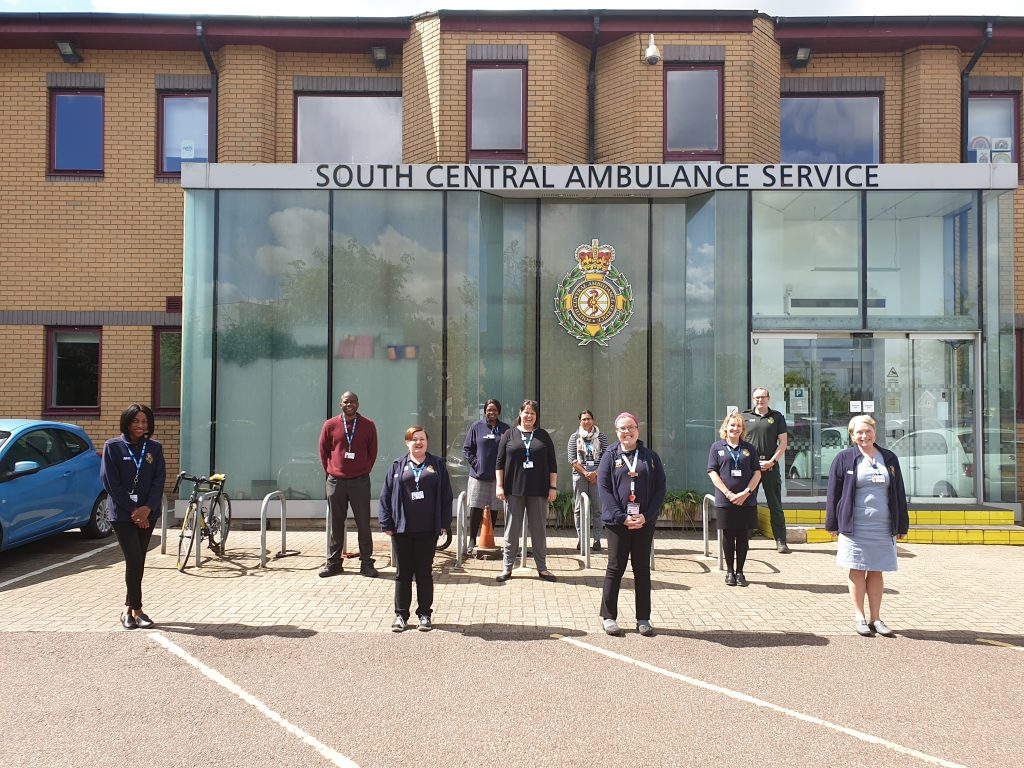 Sian Gaul – Clinical Shift Manager – 111
Sian qualified as a nurse in 1989 and worked in hospitals in London and Surrey, looking after patients in A&E, coronary care, cardiac rehabilitation and high dependency units. She joined NHS Direct in 2001 and transferred to SCAS in 2010, initially working on the Trust's Clinical Service Desk in the 999 service before moving to help start the NHS 111 service in 2012.
"I've loved watching 111 develop from a very small team to a large team covering the whole of the SCAS patch, and beyond with Covid-19. I love the people I work with; it is a really diverse team and we're all united in doing the best for our patients. Covid-19 has been an immense challenge with the volume of calls we have been receiving, but everyone has stepped up to the challenge. SCAS helped provide the national Covid Response Service so we were taking calls from all over the country. I am so proud of our team and how we have dealt with the incredible challenges over the last few months."
Sophie Groves – Shift Manager – 111
Sophie qualified as a nurse in 1988 and has 35 years' nursing experience. She has worked in many hospitals and health units across the UK from the Isle of Wight to Leicester with specialisms in head and neck, primary care and trauma/orthopaedics. She joined SCAS in 1999 initially on the Clinical Support Desk for the Trust's 999 service, and moved to the NHS 111 team in 2012 as a Clinical Shift Manager.
"When I joined NHS 111, SCAS just provided the service for Oxfordshire and today we cover the whole of the Thames Valley and Hampshire, as well as parts of Dorset for dental care. The 111 Team has been amazing in stepping up to the Covid-19 challenge, providing the national Covid line service as well as our normal workload, adapting and managing a situation that has changed daily and sometimes hourly."
Laura Wordley – 111 Clinician
Laura qualified in 2002 as a general medical nurse, specialising in cardiac and respiratory conditions. She spent most of her career to date working in hospitals, but had over recent years wanted to move out from a hospital setting to somewhere where she could help patients stay at home and out of hospital where possible.
"Joining SCAS one year ago has enabled me to do this and I love it. Working as a 111 clinician, you get such a variety of calls; I feel that I am using all my nursing knowledge and experience to help the patients who call the service. The last few months have been challenging and at times stressful, but I feel that everyone in the 111 team – call handlers, clinicians, team leaders, shift managers and housekeeping – has risen to the challenge and managed it well."
Treasa Michael – Clinical Shift Manager – 111
Treasa has 18 years' nursing experience and worked at Oxford University Hospitals NHS Foundation Trust and Oxford Health NHS Foundation Trust, before joining SCAS in 2017, initially as a clinical advisor and now as an acting clinical shift manager.
"Nurses are playing a vital role in managing the Covid-19 pandemic. It is a stressful and challenging time for nurses everywhere and we must remember today many of our colleagues who have lost their lives in the battle against Covid-19. On International Nurses Day I hope my colleagues across the world stay safe."
Claire Davis – 111 Clinician
Clare qualified in 1992 and worked as a renal nurse for her first year, before retraining as a midwife. After 14 years midwifery nursing, she joined NHS Direct in for five years before transferring to SCAS in 2012.
Chloe Lumley – 111 Clinician
Chloe left school at 18 and immediately went into training to be a nurse, qualifying in 2004 as a paediatric nurse predominantly in critical care. Whilst training in Nottingham she met and later married her husband, and they are about to celebrate their 10th wedding anniversary.
"Pursuing nursing as a career is integral to my path in life, having met my husband and made lifelong friends along the journey. I am humbled by my frontline colleagues in this time of pandemic – you do an amazing job – and I'm also proud to be part of an incredible team that has met the Covid-19 challenge head on and provided such good reassurance and advice to patients calling 111 in these uncertain times."
Kudzai Chigogora – 111 Clinician
Kudzai has 17 years nursing experience, working at hospitals in London within A&E, general surgery and general medicine departments, as well as an infection control and prevention nurse. She joined SCAS in 2016 and has worked in our 999 service as well as now as a clinician on our NHS 111 service.
Warren Talbot – 111 Clinician
Warren qualified as a nurse in 2009 and is now dual qualified as a paramedic. He has over 20 years NHS experience, starting his career as a ward assistant at the Radcliffe Infirmary, working his way up to his current role as a Specialist Paramedic in Urgent Care.
"We are lucky at SCAS to have the Specialist Nurse in Urgent Care role that provides a wealth of knowledge from nurses with many different nursing backgrounds. In my Specialist role, I rotate around responding to patients who've called 999, GP visits, 111 as well as working at the Chipping Norton First Aid Unit. Nursing skills have always been valuable in providing care for urgent and emergency patients, and it's been lovely working in 111; the nursing team here are amazing people to work with! Happy International Nursing Day everyone!"
Joss Chigubu – Senior Clinical Advisor, 111
Joss qualified as a registered general nurse and has 20 years' experience. She began her nursing career at Milton Keynes Hospital, working in A&E, medicine and surgery, with a specialism in head and neck/EMT. After working at NHS Direct as a senior clinical advisor, she was then involved in the establishment and implementation of the NHS 111 service, and joined SCAS in 2014.
 "As a senior clinical advisor, clinical navigator and clinical coach at SCAS, I have seen firsthand how challenging, but rewarding, it has been to help manage the NHS response to Covid-19. The team has been fantastic, liaising with Public Health England and other national organisations to ensure we keep our staff up-to-date with the changing situation and ensure their welfare too."
 Theresa Mapolisa – Nurse Advisor, 111
Theresa qualified as a nurse in 2005 and initially worked in surgical and orthopaedic hospital wards. She has been a nurse advisor for the last eight years and has spent the last few challenging months educating, assessing and informing some very anxious and unwell patients who have called 111 with coronavirus symptoms and concern, as well as ensuring that patients calling 111 for non Covid-19 reasons, especially those who had serious illnesses, still received the right assessment, advice and treatment they needed too.
Ends