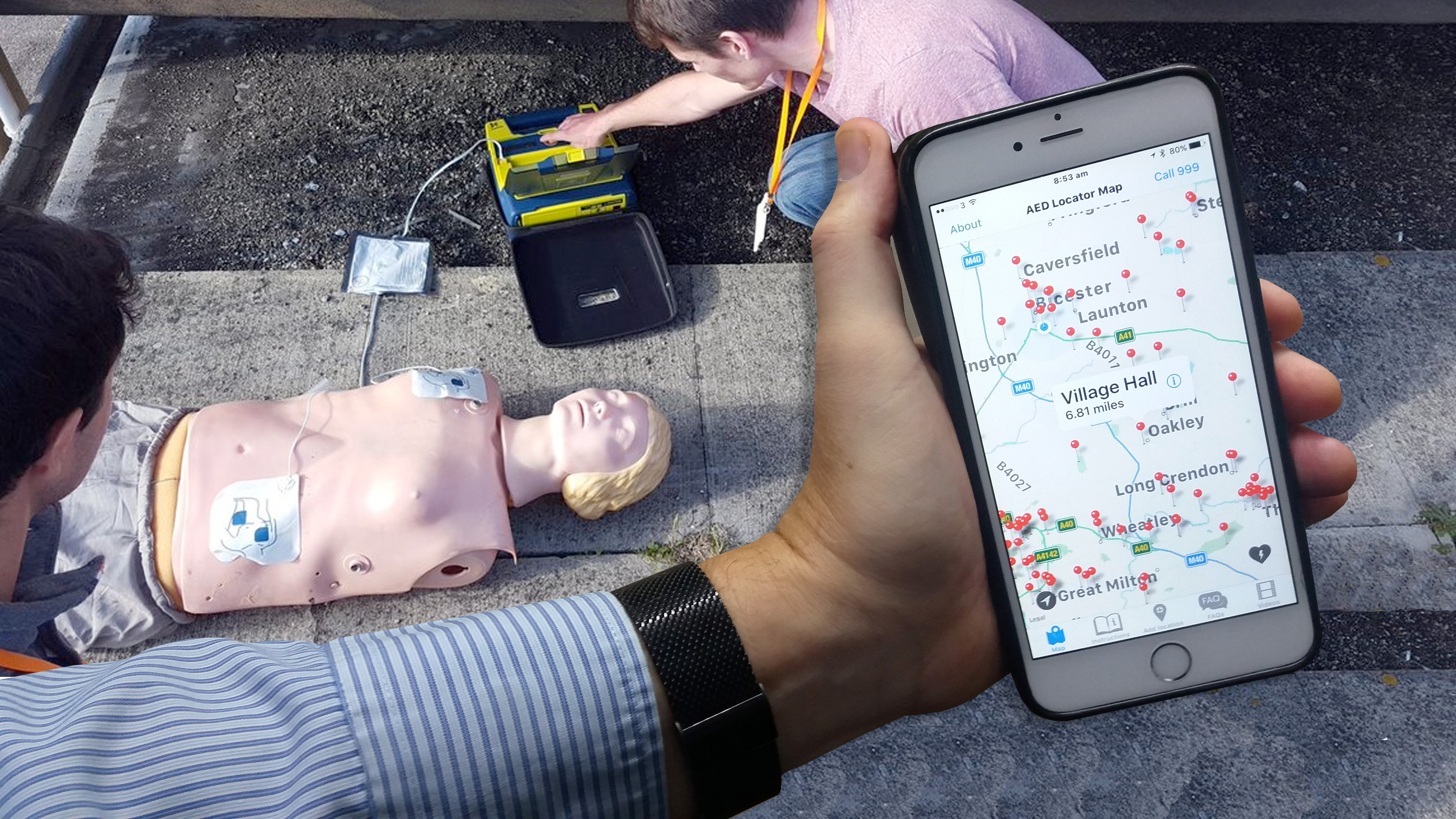 South Central Ambulance Service NHS Foundation Trust (SCAS) is launching a brand new App that is capable of telling anyone in the UK where their nearest automatic external defibrillator (AED) is, should they come across someone in cardiac arrest, and also guide them through how to carry out effective cardiopulmonary resuscitation (CPR) or chest compressions.
You can see our dedicated page here.
The Save a Life App, which is iOS and Android compatible and free to download, has been developed for SCAS by its partner, O2, and uses GPS functionality to show a user where their closest AED is from wherever they are in Berkshire, Buckinghamshire, Hampshire or Oxfordshire.
It has been designed with inbuilt functionality to allow every ambulance trust in the country to upload the location of all their AEDs to it. If they chose to do so, this would, for the first time, provide a national register of every AED in the UK.
As well as storing the details of approximately 2,300 AEDs within the South Central region, the App also contains videos which demonstrate how to carry out CPR on adults, children and infants, along with a myth buster section that dispels the most commonly held misconceptions about the risks of attempting CPR. The location of each AED on the map has been verified by SCAS and the date of verification included so users can see when it was last checked.
Professor Charles Deakin, Consultant in Cardiac Anaesthesia and Intensive Care, Assistant Medical Director for SCAS and a member of the European Resuscitation Council, who provided medical consultancy to the SCAS and O2 development team behind the Save a Life App said:
"Sudden cardiac arrest is a leading cause of premature death, but with immediate treatment many lives can be saved. The quicker that the disorganised electrical rhythm – called ventricular fibrillation – that causes a sudden cardiac arrest can be treated by defibrillation, the greater the chance of a successful resuscitation. Seconds really do count so by using the Save a Life App, someone can save many seconds, if not minutes, in using a defibrillator on a patient even before an ambulance arrives. This gives the person having the cardiac arrest a greater chance of survival."
Sam Mangoro, who was 16 and a student at The Mountbatten School in Romsey suffered a cardiac arrest during a PE lesson in 2014.
Sam said: "Thanks to the quick thinking of my teachers, one of whom started giving me CPR immediately whilst another went to get the school's AED, I was one of the few lucky ones and survived an out-of-hospital cardiac arrest.
"Since then I've campaigned up and down the country to raise awareness and funds for defibrillators in all schools in the UK. I'm delighted that SCAS has launched this innovative new App that will help more people do what I did: beat the odds and survive a cardiac arrest. I'd urge everyone to download it now and familiarise yourself with how to do CPR – or better still go on a course to learn it – so that if you came across a friend, family member or complete stranger in cardiac arrest you could have the ability to help save their life. "
Today's launch is the latest development in SCAS' Start a Heart campaign which is designed to increase the chances of people in our region surviving a heart attack or cardiac arrest by:
Always dialing 999 first
Checking if someone is breathing
If not breathing, starting CPR immediately
If more than one person with the patient, send someone to get an AED from nearby if available whilst the other person continues CPR
Keep performing CPR until help arrives
Commenting on the partnership, Brendan O'Rourke, Chief Information Officer at O2 said: "We're so pleased to be part of this important project. Helping people and making our customers' lives easier is very much at the heart of what we do at O2. Being able to develop such a simple, user friendly and efficient solution that can help save lives is one of the more rewarding and satisfying projects I'm proud to have been part of. The main objective is to drive greater awareness and availability of emergency support tools, whether that's guidance and advice or pinpointing AEDs. I'm glad we're part of this and look forward to continuing our work with SCAS."
The Save a Life app can be downloaded for free for iOS and Android devices via links at the bottom of every page of this website.