South Central Ambulance Service NHS Foundation Trust (SCAS) is delighted to announce that Bracknell-based Paramedic, Stuart Brookfield, is amongst a series of powerful and personal portraits of NHS staff who responded to the COVID-19 pandemic, captured by acclaimed photographer, Rankin.
In a mark of respect and thanks to the NHS, the renowned photographer, who has previously shot the Rolling Stones, Kate Moss and HM The Queen, offered to take portraits of 12 people playing a vital role in the NHS response to COVID-19.
The collection will be showcased across the country at bus stops, roadside billboards and iconic pedestrian areas including the world-famous Piccadilly Lights in central London this week to mark the 72nd birthday of the NHS.
British photographer, director and cultural provocateur, Rankin, said: "As the coronavirus pandemic began to unfold, I was moved by the incredible efforts of people across the NHS and I wanted to document who they are and their role in fighting this disease. Taking a portrait is a unique and intimate experience, even with social distancing in place. Everyone had their own inspiring story which to them was just doing their job. I hope these images portray the resilience and courage they show every day in the face of real adversity."
As well as SCAS Paramedic, Stuart, those photographed included an ICU consultant, a COVID-19 critical care nurse, a midwife, a psychiatrist, a hospital porter, a COVID-19 ward cleaner, a GP, a pharmacist, a district nurse, a 111 call centre worker and a chief information officer. All have played a vital role in managing the response to COVID-19 and supporting people impacted by the disease.
Sir Simon Stevens, NHS Chief Executive, said: "This has been the most challenging year in the NHS' history, with our amazing staff providing care to almost 100,000 hospitalised COVID-19 patients, and many more in the community. Nurses, doctors, physios, pharmacists, cleaners and countless others have pulled together, bolstered by thousands of former NHS staff who came back to help, alongside a new generation of students who stepped up. As we approach the NHS' anniversary, these striking portraits pay tribute to all NHS staff and their extraordinary dedication. On 5 July we also want to say thank you to those from all walks of life who have played their part in helping the NHS and our communities deal with this unprecedented health emergency."
The participants have been photographed unhidden by PPE, to reveal the people behind the masks and celebrate the individuals they are. Alongside each portrait, NHS staff have shared their own personal stories from the frontline, providing a unique and touching insight into the lives of the people who are battling this pandemic and saving lives.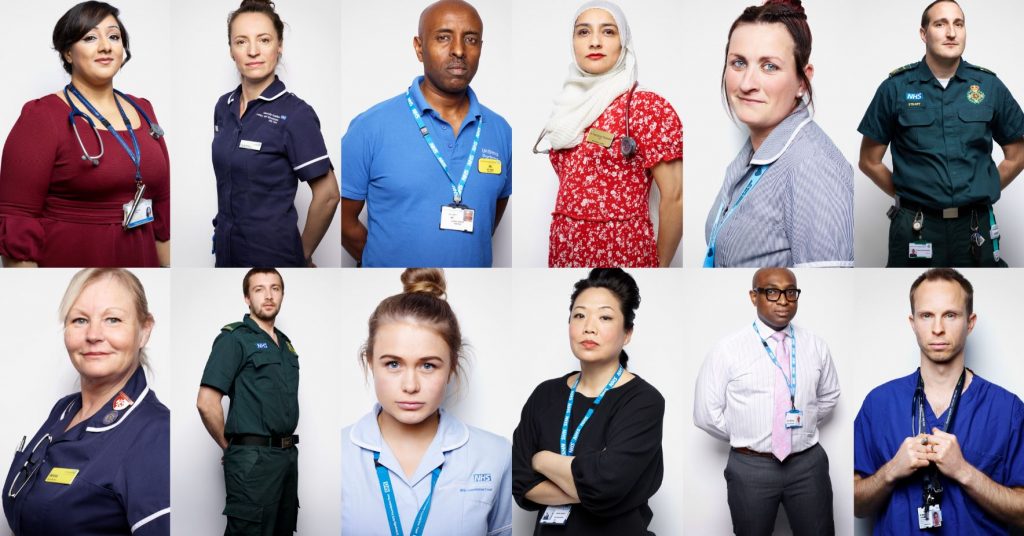 Stuart Brookfield, Paramedic at SCAS, said: "I feel honoured to be given the chance to take part in this campaign and to be chosen to represent all my fellow colleagues. It has been a surreal experience attending the Rankin studio in London for a photoshoot – not something you do every day in our line of work! I'm really thankful for all the support I've been given in order to become a paramedic and fulfil my dream and incredibly proud to be part of a national campaign for NHS workers, highlighting the significant role we all play."
The full selection of portraits and their stories can be found here:
Ends
Background
The portraits include an ICU consultant, a COVID-19 critical care nurse, a midwife, a general adult psychiatrist, a hospital porter, a COVID-19 ward cleaner, a paramedic, a GP, a pharmacist, a district nurse, a 111 call centre worker, and a chief information officer.
Ade Williams, Superintendent Pharmacist, Bedminster Pharmacy, Bristol
Ali Abdi, Porter, University Hospitals Bristol NHS Foundation Trust
Anne Roberts, District Nurse, Midlands Partnership NHS Foundation Trust
Claudia Anghel, Midwife, University Hospital Coventry and Warwickshire
Emma Kelly, Critical Care Nurse, Manchester University Hospitals NHS Foundation Trust
Dr Farzana Hussain, GP, Project Surgery, Newham, London
Jack Hannay Manikum, 111 Call Handler, West Midlands Ambulance Service
Laura Arrowsmith, Cleaner, Mid Cheshire Hospitals NHS Foundation Trust
Dr Marc Lyons, ICU Consultant, East Cheshire NHS Trust
Dr Roopak Khara, General Adult Psychiatrist, West London NHS Trust
Sarah Jensen, Chief Information Officer, Barts Health NHS Trust
Stuart Brookfield, Paramedic, South Central Ambulance Service NHS Foundation Trust
Photos were taken across four UK locations with reduced crew. The shoot incorporated social distancing measures in accordance with NHS and government guidelines.
This year has been the most challenging in NHS history with staff working around the clock to tackle coronavirus – caring for the 100,000 patients with Covid-19 who needed specialist hospital treatment and treating countless others besides, redesigning services and creating backup Nightingale hospitals.
None of this would have been possible without the help and support of countless individuals and organisations around the country.
Everyone across the NHS is hugely grateful to the thousands of former doctors, nurses and other health service staff who came out of retirement to battle coronavirus, the fellow key workers – from bus drivers and refuse collectors to social care staff and teachers – who kept the country running  and, of course, all those who stopped the spread of the virus by following the expert advice and staying home to save lives.
Everyone has had a part to play and, in the most difficult days, frontline workers were sustained by the support of the public.
So on 5 July, the day the NHS was founded, the whole country is invited to come together again at 5pm and applaud the commitment, courage and sacrifice shown by so many.
On the eve of the birthday, 4 July, iconic landmarks including the Royal Albert Hall, Blackpool Tower and Wembley Arch will be illuminated in blue as part of tributes to NHS staff.
About Rankin
Rankin is a British photographer, publisher and film director. With a portfolio ranging from portraiture to documentary, he has shot The Rolling Stones, David Bowie, Kate Moss, Kendall Jenner and The Queen to name only a few. Fearless behind the lens, his imagery has become engrained in contemporary iconography. Synonymous with compelling portraiture, Rankin's lens captures, creates and unveils icons. His portraits have graced the covers of Elle, Harpers Bazaar, Esquire, GQ and Rolling Stone, and he has produced landmark advertising for brands like Nike, Swatch and Dove, and charities including Oxfam and Breakthrough Breast Cancer.
The portrait images can be accessed here: https://www.dropbox.com/sh/5449whh9u8rg685/AADE0OsuVDcpo3h2O2HrUVnEa?dl=0
Please note: these images cannot be altered or cropped
For more information contact the communications team on 07623 957 895 or email communications@scas.nhs.uk