NHS ambulance staff who have been attacked while on duty are leading a new national campaign to promote respect across the country.
Every day last year, 32 ambulance staff were abused or attacked – more than one during every hour of every day throughout the whole year: a total of 11,749 staff.
This was an increase of 4,060 incidents over the last five years. The most significant rise covered the initial period of the COVID-19 pandemic in 2020 when assaults jumped up by 23% compared with the year before.
These included kicking, slapping, head-butting and verbal abuse, and ranged from common assault to serious attacks involving knives and weapons.
The Association of Ambulance Chief Executives – with support from NHS England – has today launched the national #WorkWithoutFear campaign to highlight the profound impact of this abuse on the everyday lives of ambulance staff and to encourage the minority of people who might commit these offences to have respect for the people who are trying to help them, their friends and families when they need it most.
Amanda Pritchard, NHS chief executive, said: "Ambulance staff consistently go above and beyond to ensure people get the help they need in times of emergencies, and have been at the forefront of the country's response to the COVID pandemic.
"The vast majority of patients and the public show nothing but respect and thanks for the skilled care they receive, but the unacceptable actions of a small minority have a massive impact on the professional and personal lives of our ambulance colleagues.
"We should all have the right to work without fear of violence and threats, so I am pleased to support this important campaign as part of our wider NHS violence prevention and reduction work to protect staff wherever they work."
The campaign features several staff from all over the country who have been the victims of assault, including West Midlands Ambulance Service paramedics Deena Evans and Michael Hipgrave, who saw their attacker jailed for nine years after he stabbed them as they went to help him.
Deena said: "Following my own horrific experiences, I am supporting this campaign to try and prevent my colleagues having to go through what Michael and I have endured. Being attacked so violently by someone I was trying to help completely changed me as a person and I became introverted and scared of going out. But that fear went away as soon as he was sentenced to nine years in prison."
#WorkWithoutFear follows another campaign launched earlier this month by NHS Charities Together – #WithAllOurHearts – which asked the public to get behind the NHS once again after a survey found more than half of staff (54%) said verbal and physical abuse has increased since last year.
This featured South Central Ambulance Service paramedic Ben Glover, based in Southampton, who said: "While support is still out there, we're seeing more and more patients being verbally and even physically aggressive. I've been bitten, punched, hit, and it has really picked up recently. We shouldn't have to deal with it as it can have a real morale hit, and that's the last thing we need." Hear more in his interview with ITV Meridian News.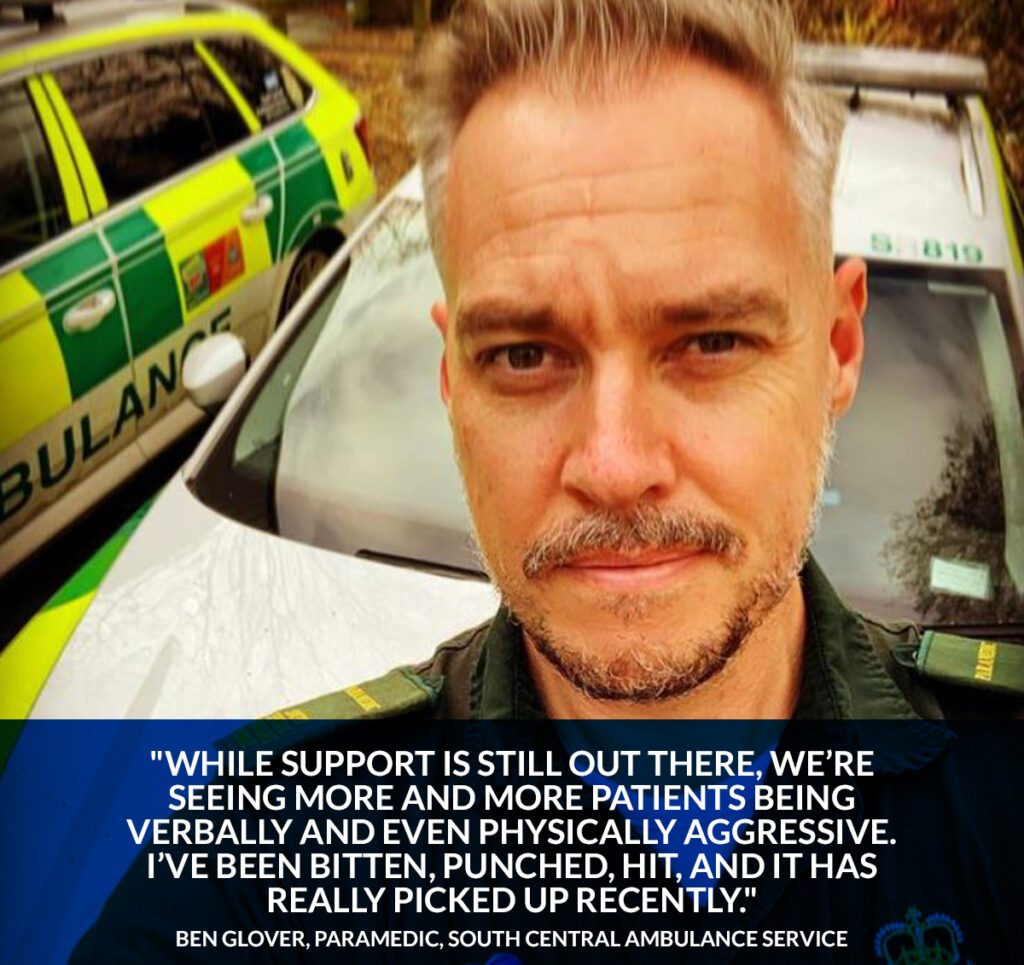 Daren Mochrie, chair of the Association of Ambulance Chief Executives (AACE) and chief executive of North West Ambulance Service, said: "Unfortunately, ambulance staff face the possibility of violence, assault and aggression every time they start a shift. When they occur, these attacks have a significant and lasting impact on the team member, affecting every aspect of their life. Despite that, ambulance staff continue to turn up for work to help and serve their local communities.
"We hope this campaign raises awareness of the impact of this behaviour on individuals, emphasises that it is totally unacceptable in any form and ensures that our staff are treated with the respect they deserve. The Assaults on Emergency Workers Offences Act 2018 legislation is in place, but we must now see the judiciary consistently using that to issue the most appropriate sentences to those found guilty of committing these appalling crimes."
Assaults against female staff have seen a 48% increase in the number of attacks over the last five years, while younger ambulance staff (aged 21-34) have seen the largest increase in assaults compared to other age groups. Two-thirds of offenders who assault ambulance staff are male and one third is female.
UNISON national officer Alan Lofthouse said: "Staff have the right to go to work without being abused. Those who are verbally or physical attacked suffer long-term effects or even leave the job they love. Violence and aggression against ambulance workers is never okay. That important message must be loud and clear."
Tracy Nicholls, chief executive of the College of Paramedics, said: "The College of Paramedics wholeheartedly supports the #WorkWithoutFear campaign and firmly believes that every paramedic should be able to go to work and do their job without fear of abuse or violence.
"The fact that every day last year, 32 ambulance staff were abused or attacked is totally appalling and unacceptable. We know from our own engagement with members that nearly three-quarters of paramedics have feared for their own safety or felt threatened at work.
"Enough is enough, it has to stop. Now is the time for us all to take a stand and find new ways of working together to prevent abuse from happening, as well as demanding zero-tolerance when it does occur."
National Police Chiefs' Council chair Martin Hewitt said: "It is entirely unacceptable for NHS ambulance staff to suffer violence and aggression while saving lives. We're deeply concerned that reported incidents of violence have risen in the last five years and that over 50,000 ambulance crews and control room staff have suffered some form of verbal or physical assault or threatening behaviour over that period.
"In 2020, the maximum jail term for attacking emergency workers was doubled. We will not tolerate abuse of our emergency workers and we will use the full force of the law to prosecute anyone who uses violence against those who are on the front line and who must be able to work without fear."
The public can pledge their support for this campaign by using and sharing #WorkWithoutFear on social media and by visiting www.aace.org.uk/vaa to view films about some of those affected.