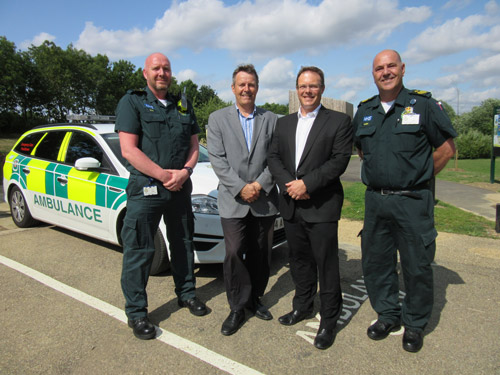 South Central Ambulance Service NHS Foundation Trust (SCAS) is pleased to announce the opening of a new Ambulance Standby and Amenity Point (ASAP) in Howe Park Wood, Tattenhoe, Milton Keynes. This is one of three standby points that are being opened in the Milton Keynes, all of which are in partnership with The Parks Trust.
SCAS has been working in partnership with The Parks Trust who have very kindly facilitated SCAS with a separate room in their new building for an ASAP. This new facility was handed over by The Parks Trust Chief Executive, David Foster to SCAS Chief Executive Will Hancock to officially celebrate the new acquisition and partnership.
Will Hancock, Chief Executive, of SCAS said: "We are extremely grateful to The Parks Trust for working with us to facilitate their building as a standby point for our crews. The ASAP is a fantastic facility which will enable us to remain in the community to ensure we can respond quickly in the event of a life threatening emergency. This is especially important in cases of cardiac arrest where our quick arrival can improve the patient's chance of long term survival and recovery."
SCAS's Return of Spontaneous Circulation (ROSC) survival rates are the best in the country at 39.08% (ytd Jan15) which demonstrates that people who have a witnessed cardiac arrest are given the best chance of survival.
David Foster, Chief Executive at The Parks Trust, said: "It is great to see Howe Park Wood Education and Visitor Centre can act as a base for South Central Ambulance Trust staff.
"The centre has already attracted many visitors from schools and the general public. It's nice to use the building to help facilitate emergency staff while they are on duty."
Mark Begley, Area Manager for SCAS, said "Having premises like this in Howe Park Wood will provide our hard working and dedicated ambulance teams a safe location where they can grab a cup of tea and use the facilities while waiting that short time for the next emergency call to come in. I am incredibly grateful to The Parks Trust in assisting us with these new premises."
In addition to our Resource Centres (Ambulance Service) ASAPs are locations across the SCAS area which provide our staff with the opportunity to use comfortable facilities while still remaining ready to respond to the next emergency call. This is in addition to the already existing roadside standby points people will be more familiar with.