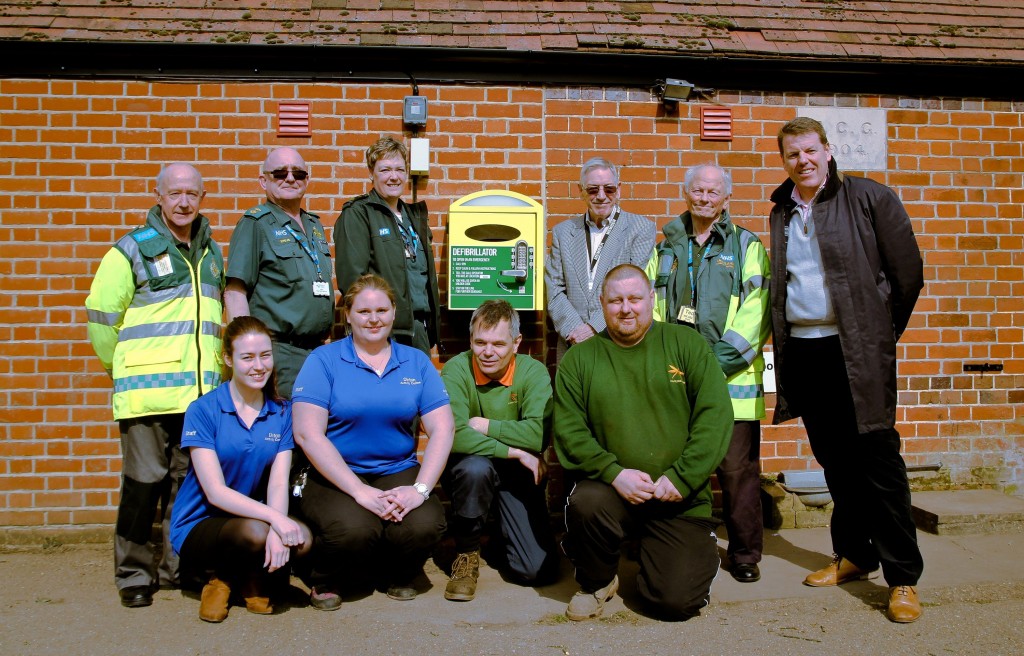 At a ceremony on Monday 21 March, a newly installed Public Access Defibrillator (PAD) was unveiled at Dinton Pastures Country Park in Hurst, near Wokingham.
Opened in 1979, facilities and the environment at Dinton Pastures have been developed and steadily improved and it is now a destination venue for people across Berkshire and beyond, attracting hundreds of thousands of visitors every year.
People come for an array of different activities from gentle strolls around the lake, to exhilarating outdoor sports such as open water swimming, sailing and competition triathlons, along with families visiting to use the new play area and café.
With such a diverse demographic of users, a high volume of visitors and 450 acres to explore, the Wokingham Community First Responders (CFRs) identified Dinton Pastures as an ideal location for a new PAD.
The Wokingham CFR Group worked hard to raise the £2,000 needed to fund the defibrillator and outdoor safe box. The Group also donated their time and some additional funds to train Dinton Pastures staff on the safe operation of the device and provide a 10 year maintenance and support package. Thanks to the efforts of the Wokingham CFRs and generous donations from residents within Wokingham, Barkham, Finchampstead and surrounding areas, along with support from the Hurst Village Partnership that paid for the electrical installation costs, the defibrillator went live at lunchtime on Monday 21 March.
Councillor Angus Ross, Executive Member for Environment at Wokingham Borough Council said:
"I'd like to say a big thank you to Wokingham Community First Responders and Hurst Village Partnership for providing us with the funding, training and ongoing support to make this community resource available at one of our busiest country parks in the borough."
Nicola Wright, South Central Ambulance Service NHS Foundation Trust (SCAS) Paramedic and CFR Scheme Co-ordinator for Wokingham, said:
"The decision to donate a defibrillator to Dinton Pastures was because we wanted to give something back to the people of the Wokingham Borough as a thank you for their generous donations."
The defibrillator is located in a secure box at the Dragonfly Café at Dinton Pastures and can be accessed by calling 999.
David Hamer, SCAS Community Liaison and Training Officer for Berkshire, said:
"The Wokingham Community First Responders (CFRs), like all groups across the county, perform a life-saving role whether that is being first to scene at emergencies, helping raise funds to install life-saving equipment like the PAD at Dinton Pastures or training local people in emergency first aid skills. A couple of years ago we had 13 members in the Wokingham group but now we are down to five.
"As well as looking for new volunteers for Wokingham, we'd also like to hear from people in Burghfield, Hungerford and Pangbourne who would like to make a life-saving difference to their local community by volunteering as a Community First Responder."
Community First Responders (CFRs) receive full training by SCAS to provide life-saving treatment and if they are sent to an emergency they are always backed up with the nearest available ambulance. Every six months, all CFRs must complete training to refresh their skills and there are optional monthly training sessions they can attend too. In return, SCAS asks for volunteers to be available and on call to respond for at least 20 hours a month – a commitment that can be fitted around existing work, leisure or family commitments.
To find out more about the role of a CFR:
Email cfr@scas.nhs.uk
Call 0800 587 0207
Ends
Notes to editors:
On average across the SCAS region, the ambulance service is called to attend five patients suffering either a cardiac arrest or heart attack every day.
In the UK, there are 188,000 hospital episodes attributed to heart attack each year and around 30% of heart attacks are fatal.
There are more than 30,000 out-of-hospital cardiac arrests in the UK each year and less than 1 in 10 people survive.
In Norway, where CPR is taught as part of the curriculum in all schools, the survival rate for out-of-hospital cardiac arrests is 1 in 4.
For every minute that passes without cardiopulmonary resuscitation (CPR) or chest compressions and defibrillation, a person's chances of surviving a cardiac arrest decrease by 10%.
The last published data for annual Return of Spontaneous Circulation (ROSC) survival rates showed that SCAS had the highest rates of all ambulance trusts (39.08%) which demonstrates that people who have a witnessed cardiac arrest are given the best chance of survival.