Locals in and around Brockenhurst are celebrating the restart of the Brockenhurst Ambulance Community First Responder (CFR) scheme. The scheme which existed until several years ago, had been supported by the local Parish Council, but stopped operating when those involved at that time left the scheme. A local warden from Black Knowl caravan site recently undertook a 100k endurance cycle ride to raise £200 towards starting up the new scheme and CTC Wessex cycle club also donated £100 towards the Responders. Now a new volunteer has come forward to restart the scheme and it is hoped she will be the first of several.
Anita Whittle, a local resident, has completed her training with South Central Ambulance Service NHS Foundation Trust, and been issued with a new set of medical equipment and the all-important defibrillator.  She will be on call to respond to local medical emergency calls when needed. At a meeting of Brockenhurst Parish Council, Anita announced the relaunch of the Brockenhurst scheme, and that she was looking for additional community minded residents to join her. Councillors welcomed the news and agreed to publicise the need for additional volunteers to join Anita. Speaking afterwards she said: "I really hope that we can get a few more people from this area to become Community First Responders, because they can make a difference – in the worst cases – between life and death. The training is straightforward, and no previous  medical experience is necessary. You just need to be 18 or more, of good character and have use of a car."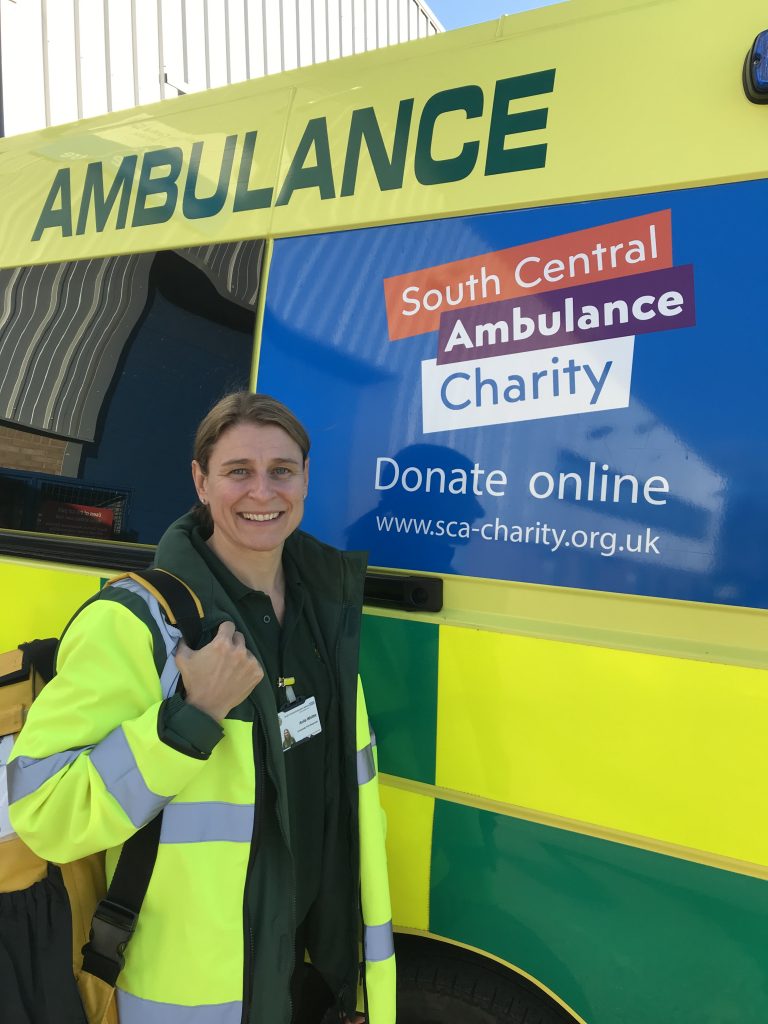 Recognising  the need for more volunteers as quickly as possible, South Central Ambulance Service have agreed to prioritise the training of successful applicants.
Community First Responders (CFRs) are  volunteers who give their time freely to help save lives in their community. They are trained by South Central Ambulance Service in basic life support, the use of AED (Automated External Defibrillator) and the treatment and control of a wide range of potentially life-threatening conditions. They attend calls in their local area and provide basic life support care until the arrival of the ambulance service. When not required they remain at home or work carrying on their daily life. The volunteers also demonstrate CPR and how to use a defibrillator to groups and schools in their communities, raising awareness of basic life-saving skills.
The Bransgore Community First Responder team has assisted Anita to reach this stage. Bransgore Co-ordinator Mike Jukes BEM said: "Although the fire service still has  a co-responder scheme in the area, their priority will always be the need to provide fire cover and therefore they will not be available at all times. Community based first responders can make the difference in many cases. The Bransgore team was happy to assist Anita and the new Brockenhurst scheme will fill a gap in the coverage within the New Forest where, because of its rural nature, the ambulance service can find it challenging to reach patients as quickly as it would like."
Anyone who may be interested in becoming a community first responder in Brockenhurst should ring 0800 587 0207 or E mail cfr@scas.nhs.uk
Alternatively, they can call 0844 500 9699 and one of the local CFR team will contact them to explain more.
Ends