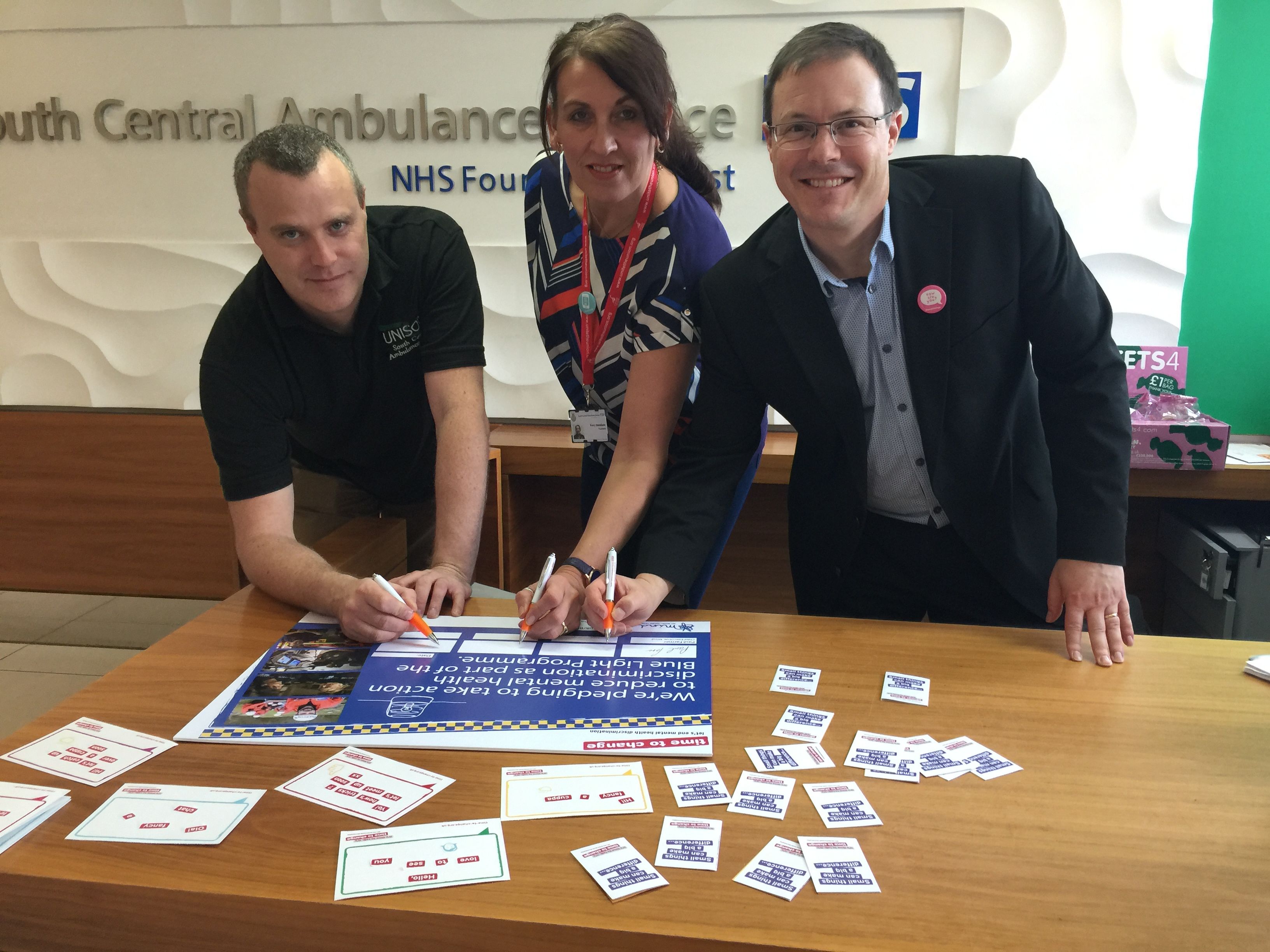 SCAS Chief Executive Will Hancock signed SCAS' Blue Light Time to Change Pledge.
The Blue Light Time to Change Pledge is an aspirational statement that publically demonstrates our commitment as an emergency service to empower our staff, work with other emergency services and contribute to the national aim of reducing mental health stigma and discrimination.
As the lead for Mental Health at the Association of Ambulance Chief Executives (AACE), a member on the expert advisory panel for the Blue Light Programme and the NHS England Task Force on Mental Health, Will Hancock is passionate about making improvements in mental health.
He said: "There is no health without mental health, it is as simple as that. Caring is a core SCAS value and it is vital that we can sustain our own well-being and support one another as well as our patients."
Mind's independent research suggests that if you work for the emergency services you're more at risk of experiencing a mental health problem than the general population, but those who do are less likely to access support to help them with their problem. In that research 9 out of 10 people that Mind surveyed from the emergency services had experienced stress, low mood or poor mental health at some point. This is why it is so important that SCAS supports the initiative to reduce the stigma attached to mental health, encourage staff to talk about it and seek support.
Paul Farmer, Chief Executive of Mind, said: "Not only are many of our blue light personnel struggling with their mental health, but they're less likely to seek support or have time off sick than the general workforce. Good mental health should be a priority in any workplace but it is especially important that people exposed to traumatic or life-threatening situations – such as those working within the police, ambulance, fire and search and rescue services – receive appropriate support. By signing the Blue Light Time to Change Pledge South Central Ambulance Service NHS Foundation Trust is helping to fight stigma and promote positive mental health in emergency services."
SCAS has joined over 300 employers in signing the Time to Change Pledge.